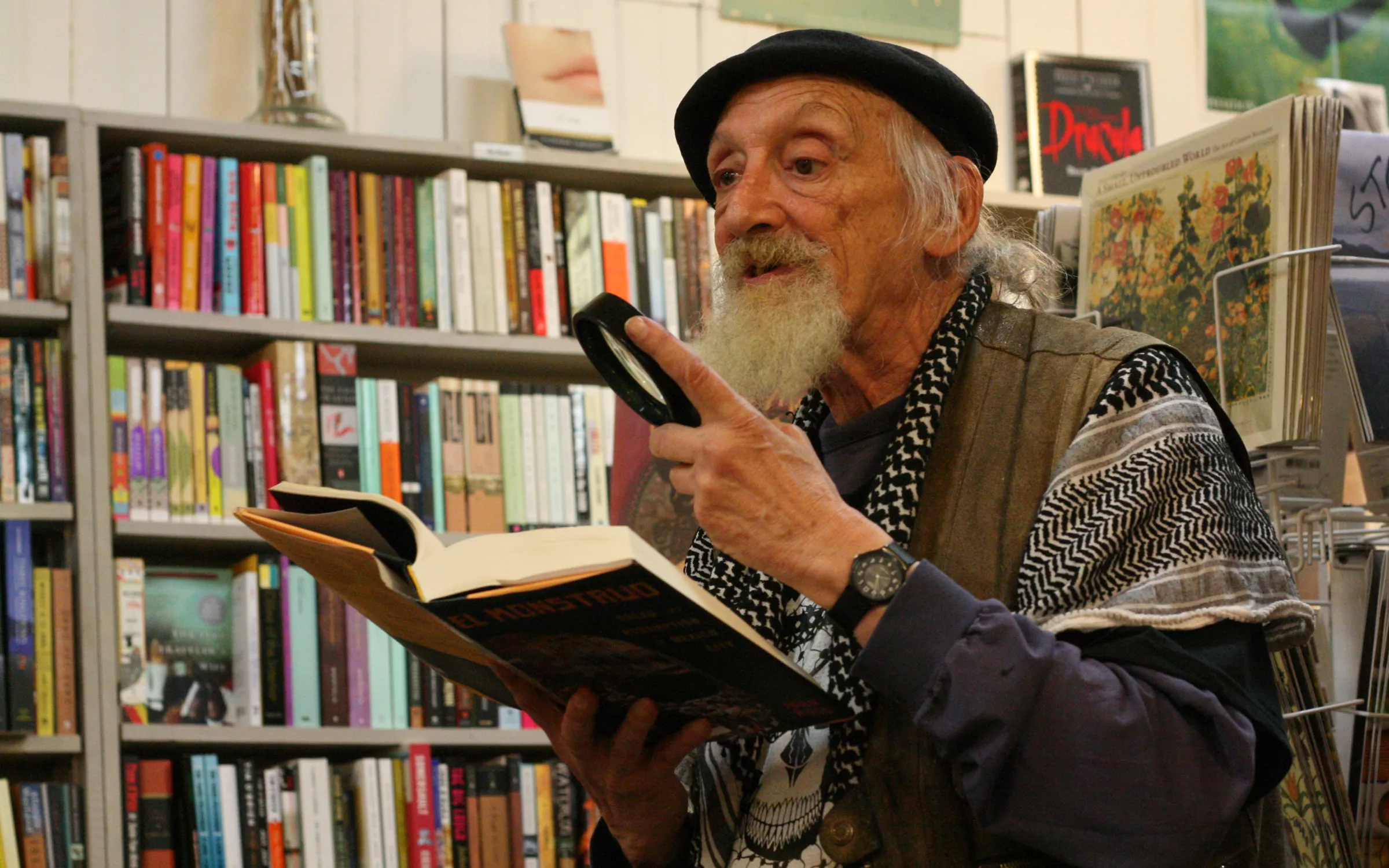 photo by Bob Doran
John Ross at Northtown Books
Once upon a time,
when I was just an angel child
lo these many light years ago,
I took Baby Dodds' drumsticks
to my lips and kissed them on the tips,
the ones that back up Louie Armstrong
and the Hot Five all the way to the Royal Garden,
the south side of Chicago, 1919.
Now I've grown quite as old
as those sticks -- but you know,
the drummer has never stopped flailing,
the tenor player has never stopped wailing,
the freedom songs of Trane, Miles, Monk and Bird
have never prophesied more

When I was a young fool of a buck
and what I said was what I did
they locked me up in jail because
the Vietnamitas
were not my enemies.
The deeper they buried me
in that terminal penitentiary,
the freer I became
and the day when the prison gates flew open,
the P.O. walked me to the door.
Ross, he told me with a look of disgust
written all over his smarmy mush,
you never learned
how to be a prisoner.

Put that on my tombstone, chump!
Chisel it in deep in the block
and stack it up in
the Trinidad town cemetery
right next to my old comrade
"Murdered By Capitalism"
E.B. Schnaubelt.
It's the epitaph I signed on for --
but one caution, compañeros,
don't put me under that stone,
oh no, better you should bury my bones
far away in an unmarked hole
because I always need to stay
at least two addresses
ahead of the government.
from "Poem On His Birthday" -- John Ross, Against Amnesia
The late, great investigative poet John Ross, a resident of Humboldt for a decade or so in the '70s and '80s, will be remembered by friends on Friday April 29 from 7 to 8:30 p.m. at Northtown Books, 957 H St., Arcata. John's compadre the poet Jerry Martien will take the lead as fellow writers read John's stories and poems, some of them set to the music of SquarPeg, a trio that John never got to hear, but that he surely would have liked.
A memorial ceremony follows on May Day, the worker's holiday, Sunday May 1 in Trinidad. Meet in front of Trinidad Elementary at 2 p.m. -- rain or shine -- and bring a single red flower. Be prepared to walk a quarter mile to the Trinidad town cemetery. Arrangements will be made for anyone unable to walk the distance (please email cemone@reninet.com in advance). Peace.