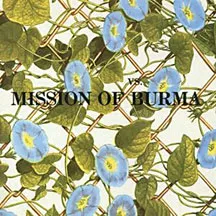 Vs. (Definitive Edition) by Mission of Burma
CD by Mission of Burma
Matador
"We hope you remember us as basically a wimpy band with nothing to say," Mission of Burma guitarist Roger Miller disclaims moments before the band bashes their way through the closing number of their last hometown show, included as a bonus DVD to this deluxe reissue of their lone studio album, 1982's Vs. Miller's modest claim couldn't be further from the truth, as Vs. stands today as one of the most powerful and unique rock albums of its era, and a turning point for the American underground. Monumentally influential, Burma set the stage for the explosion of guitar rock in the late '80s and early '90s, serving as the blueprint for acclaimed trendsetters like Nirvana, Sonic Youth and Fugazi by taking the possibilities opened by punk and injecting them with a spirit of rampant experimentalism, all in a profoundly American way.
Though unique in its own right, Burma's post-punk is still distinctly second wave: They didn't wade into entirely uncharted territory; they instead built upon a zeitgeist, surfing the tail end of approaches forged by the late-'70s onslaught of British post-punk bands like Gang of Four, Swell Maps, Wire and Public Image Ltd. But instead of simply mirroring these seminal bands, they used the influences as starting points for their own sound: Burma's music was comparatively open, emotionally weighted and, at times, unabashedly melodic (in contrast to the calculatedly rigid and stark methods of many of their predecessors), and with the aid tof ape loops and guitar-pedal wizardry, they shaped guitar onslaughts into chiming choruses and controlled chaos. Along with their contemporaries — key American groups like The Minutemen, The Wipers, and Husker-DU — they were truly mapping a new method of expression that rang true for American youth.
Though full of memorable, head-spinning moments, the album's most idiosyncratic number is definitely "Trem Two," which, along with their anthemic single "That's When I Reach for my Revolver," will long be remembered as a high-water mark of Burma's career. A comparatively calm point amidst the guitar assault of the rest of the album, the track drifts along with a guitar's lazy tremolo, ringing bass strums and a subtle dance beat serving as a canvas for Miller's abstract lyrics, with lines like "The dreams are all melting / Only to reform / Outside the headlands / Where thoughts are reborn," delivered in a brooding chorus of vocals. It's here that Burma strays furthest from "punk" into a sound all its own. The album brims over with a continual barrage of moments of genius, from the chiming, backwards-tape-loop-augmented ramshackle of the opener "Secrets" to the mid-paced sing-song of "Einstein's Day" (bearing an almost suspicious resemblance to Daydream Nation-era Sonic Youth) and on to the brief and furious closer "That's When I Escaped My Certain Fate," which abruptly ends the album, mid-scream.
The "Definitive Edition" reissue package is deluxe almost to the point of excessiveness: It includes the full original album plus four bonus tracks remastered from the original tapes, expanded onto two premium HQ-180-gram vinyl LPs and housed in a heavy cardboard gatefold with a giant 16-page booklet of interviews, photos and notes, along with a DVD of an entire live show from 1983 and a certificate for free download of the entire album. Though it's certainly a step up from the poorly mastered Rykodisc CD reissue from the late '90s, one can't help but wish they had also done a slimmed-down budget version for those dissuaded by the daunting price tag. If anything, it's a testament to the ever-increasing trend of marketing reissues to completist-minded collectors and not the layman (perhaps a reason why important bands like Mission of Burma aren't as widely appreciated as they should be).