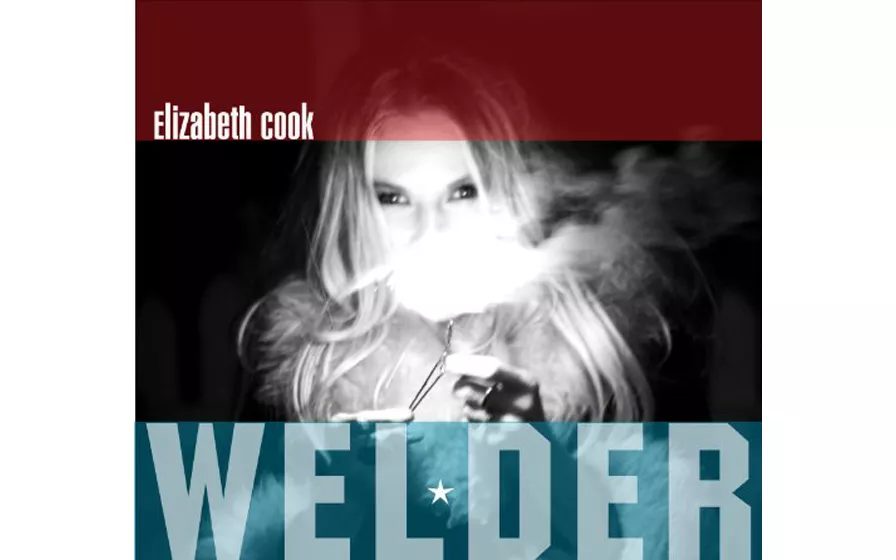 By Elizabeth Cook
Welder
When country singer/songwriter Dwight Yoakam arrived in Nashville in the late '70s, he was shunned by the music industry for being too "honky tonk" or "hillbilly" (a tag that Yoakam embraced, titling one of his albums Hillbilly Deluxe). Yoakam subsequently headed to Los Angeles, closer to the Bakersfield side of country. Labeled an outsider, Yoakam opened for a number of underground L.A. acts, namely X, The Blasters and Los Lobos, who recognized Yoakam's talent and appreciated his musical roots (Buck Owens, Merle Haggard and Johnny Cash, among others). 
It's appropriate that Yoakam, along with Rodney Crowell and Buddy Miller, make guest appearances on singer/songwriter Elizabeth Cook's superb new effort, Welder. Reared in Florida by local musician parents (the title is a tribute to her father who was welder by trade), Cook grew up hearing traditional and contemporary (early '70s) country tunes. Even though she has appeared on the Grand Ole Opry stage on numerous occasions for nearly the past decade, Cook has never been allowed to perform her own penned songs, considered too "risqué" for The Opry's more conservative audiences. Cook, though appreciated for her renditions of country standards, found herself in the same position as Yoakam. She became part of country's extended line of "outlaw" singer/songwriters, who often employ diverse musical influences without concern for categorization. 
Welder comes with a full course of eclectic influences, from the opening cut, "All the Time," which recalls the early work of Dolly Parton, to the hilarious rockers, "El Camino" and "Yes to Booty" ("When you say yes to beer, you say no to booty"), to the honky tonk numbers, "I'll Never Know" and "Snake in the Bed." However, on the more somber personal songs, such "Heroin Addict Sister," "Mama's Funeral" (which is followed by "I'm Beginning to Forget," a song written by Cook's mother) and "'Til Then," written by her longtime guitarist, musical collaborator and now-husband, Tim Carroll, Cook displays great depth, both in her delivery and her songwriting. Cook is an insightful storyteller whose attention to detail and character unfolds into authentic, honest narratives. Her "twang" is of her upbringing, and she never uses it simply for an effect.
Aside from the overproduced Dan Messe/Gary Maurer power ballad "Not California," high-profile producer Don Was' presence rarely overwhelms Welder's songs -- Cook's musical personality is too strong. Whatever direction she decides to take, her vocal execution, a nearly conversational, intimate tone, is genuinely her own. Perhaps it was fortunate that she was dropped from Warner Brothers after only a single album (2002's Hey, Y'all). She has avoided being pigeonholed as simply a "country artist," and that has given her the freedom she needs to thrive. Welder continues and improves upon Cook's body of work, showing the maturity of a gifted singer/songwriter, one who has truly earned her inclusion to the honored legacy of musical outlaws.