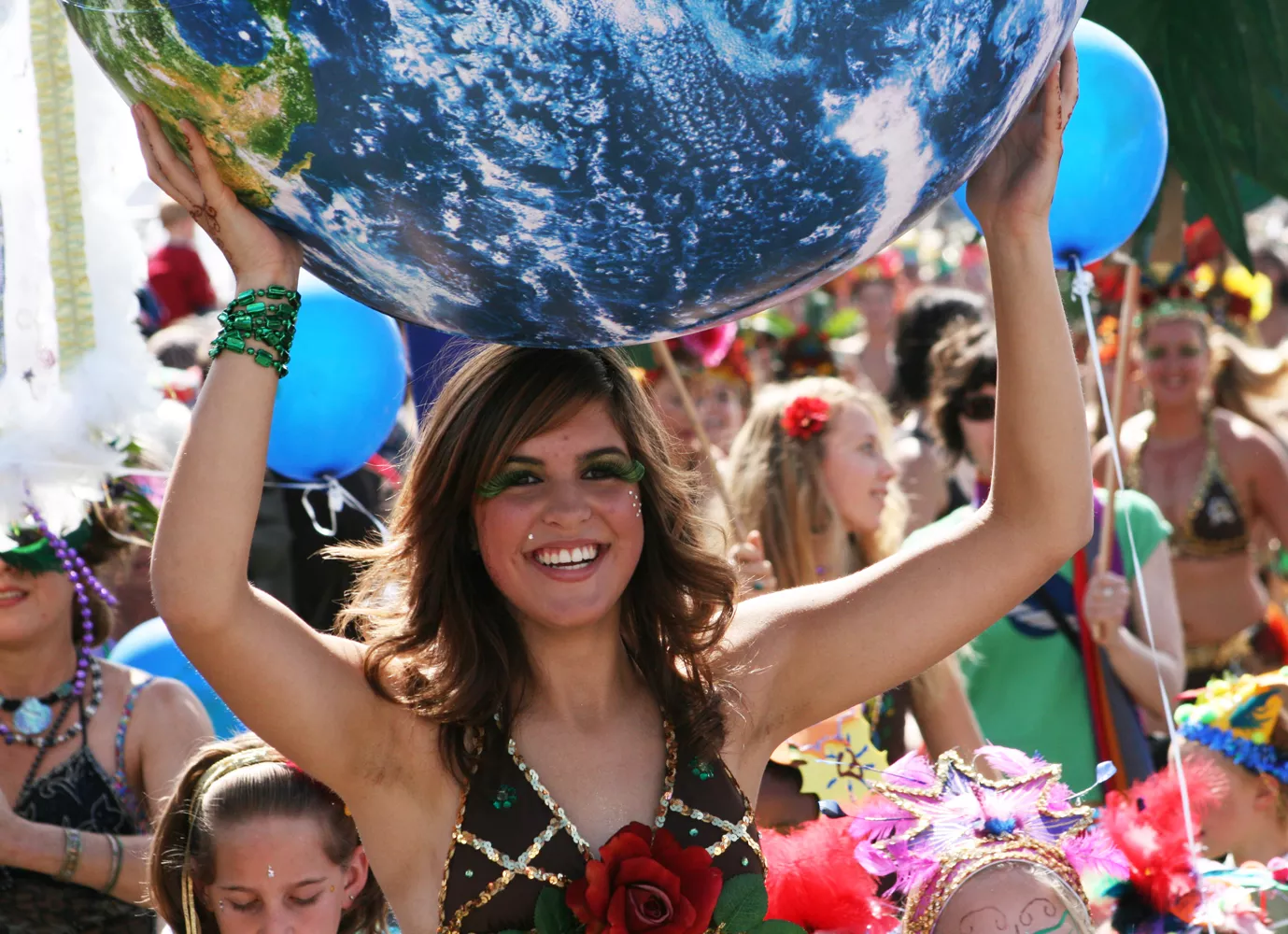 photo by Bob Doran
The Samba Parade
The Autumnal Equinox is coming up. It's not until next Friday, but this being the weekend before, it's time for another North Country Fair, Saturday and Sunday on the Arcata Plaza. The roots of the very Arcatan harvest festival celebrating the changing of the seasons go back to 1974. As usual it's put on by a group calling themselves the Same Old People. Although they are not the exact same people who started the fair, most of them are the same as last year and the year before. The name has almost always fit, except for that one un-fair year, but we needn't go into that here.
You'll see some of the same artisans and vendors among the hundreds who circle the Arcata Plaza and line the walkways with booths: potters, jewelers, candlemakers, wood carvers, knitters, tie-dyers, seamstresses and the like, all of them showing off their wares. You'll find the usual fair fare, food of all sorts, beer and wine, lemonade for the kids. The League of Women Voters will register voters, and those supporting various causes and candidates will try to win converts. The Farmers' Market is pushed around the corner, but you'll still be able to buy your fruit, vegetables, flowers and honey sticks.
As with any community gathering the main thing is the people, same old or otherwise. Chances are you'll see old friends; maybe you'll make new ones.
The soundtrack for it all comes from stages on two side streets. The one in between Humboldt Glassblowers and Garden Gate tends toward jazz and folk; the stage between the B of A and Plaza Design is louder, be it gospel, reggae, rock and/or blues, or this year, a Saturday set by Samba Da Alegria, the Brazilian drum and dance ensemble that circles the Plaza every year with the Samba Parade starting at 1 p.m. (as featured in Muse for September).
The North Lawn Stage by the flagpole (which has no elevated stage) features movement, be it bellydance, step dancers, hula hoopers, martial artists or breakdancers.
Sunday's All Species Parade (again at 1) has costumed creatures and an ad hoc band parading mostly for the fun of it, but also to honor the late local environmentalist Tim McKay. The related All Species Ball on Friday night at the Arcata Veterans Hall (6-11 p.m.) is your prelude to the Fair, and a benefit for the North Coast Environmental Center where McKay used to work. They'll have a locavore dinner, an auction, and music: jazz by the Sky Miller Quartet, folk by The Singing Nettles and Dead tunes by The Miracle Show (who also play at the Fair on Sunday).
Unless you're manning a booth, you probably won't spend all day Saturday and Sunday at the Fair, but maybe you have a friend dancing or playing music on one stage or another. You won't want to miss that set, so here's your handy guide to who does what when:
Saturday, Sept. 17
10 a.m. North Country Fair opens
10:30 Mon Petit Chou (Quebecois folk) (GG)
11 a.m. Karmaja's Tribal Bellydance (Middle-Eastern) (L)
11:30 Arcata Interfaith Gospel Choir (gospel) (PD)
11:45 Latin Peppers (Latin jazz) (GG)
1 p.m. Samba Parade (around the Plaza)
2 p.m. Chakra Nation Hoopers (hula-hoops) (L)
2 p.m. Samba Da Alegria (drum and dance) (PD)
2 p.m. Trillium (folk) (GG)
2 p.m. Ya Habibi Dance Company (bellydance) (L)
3 p.m. North Coast Wae Yue Nae Gong Acad. (martial arts) (L)
3:15 Children of the Sun (bluesy rock) (PD)
3:15 The Living Rooms (eclectic) (GG)
4 p.m. Humboldt Rockers (breakdancers) (L)
4:30 Lost Coast Marimbas (organic jazz) (GG)
4:45 The Uptown Kings (blues) (PD)
6 p.m. Fair closes for the day
(GG) = Garden Gate Stage
(PD) = Plaza Design Stage
(L) = North Lawn Stage
Sunday, Sept. 18
10 a.m. Fair opens
10:30 The Living Rooms (eclectic) (GG)
11:45 Musaic (international) (GG)
noon The Trouble (rock) (PD)
noon Angels Creations Flamenco (Latin dance/guitar) (L)
1 p.m. All Species Parade, in memory of Tim McKay
2 p.m. Matthew Cook (songwriter) (GG)
2 p.m. Emerald Coast Irish Stepdancers (L)
2:15 Northtown Dub (reggae) (PD)
3 p.m. Chakra Nation Hoopers (L)
3:15 Reflection (GG)
3:30 The Miracle Show (Dead jams) (PD)
4:30 UKEsperience (uke jams) (GG)
4:45 The Generatorz (rock) (PD)
6 p.m. The North Country Fair is over (until next year)