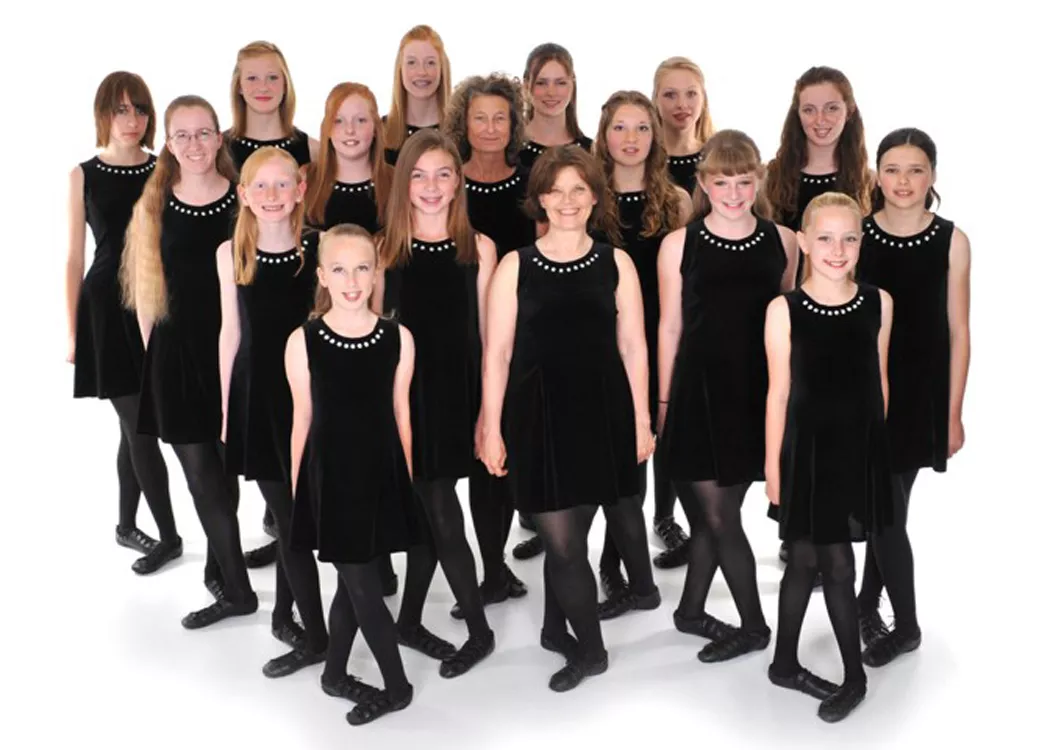 courtesy of Studio of Dance Arts
Irish Dancers from Studio of Dance Arts
The first time Shelly Fugate saw Riverdance on TV she just got up and started doing what the dancers on the screen were doing. What being the hyperspeed version of traditional Irish step dancing performed with preternatural precision. "My feet just started doing it. My heart led, but my feet were doing it," said Fugate. A complete novice, she "couldn't dance properly -- it was more emotional," she recalls. "I had to do this," she thought and set about finding an instructor.
Fugate wasn't the only one up and dancing. The touring production of Irish step dancing wowed audiences across the nation during its American premiere at Radio City Music Hall in 1996. Appearances on David Letterman and The Today Show brought images of the lines of high kicking dancers into countless living rooms, bringing lots of folk up off the couch. Irish step dancing competitions that been going on under the mainstream dance radar for decades, along with Irish dance groups that skipped out to perform at St. Paddy's Day celebrations, had transformed into tightly choreographed, highly executed blockbuster entertainment. Fugate surmises that suddenly, "step dancing became sexy."
At the Studio of Dance Arts, director Jane Morgan's dance antennae perked up around the same time. "There's nothing like this here," she thought, and she promptly hired a college student to teach a class. Fugate was first in line. That was 1997; Fugate is still dancing. The Studio of Dance Arts on Fifth and A in Eureka is still the only place to study Irish step dancing in the county, along with boasting the only troupe. Next week The Studio Of Dance Arts celebrates its 30th Annual Dance performance at the Arkley Center for Performing Arts, including ballet, modern, jazz, Middle Eastern, salsa, hip-hop and, of course, the award winning Irish Dance Company, taught by who else but the inspired Shelly Fugate.
Still in the blush of her first love with this traditional dance form, Fugate says that "even the most simple steps and rhythms bring tears to your eyes. It breaks your heart." Perhaps the visceral connection that tugs at her heart is the direct line today's dancers have to the pagan rites of ancient Ireland or to the timeless urge humans have to move together in patterns. Among its roots are folk dances called ceili, taught by master dancers who traveled from community to community teaching their steps. Fugate is impressed by the universal nature of these codified ceili dances, which are performed exactly the same way anywhere in the world today.
Six months into her first class, Fugate found herself teaching the class with help from occasional guest artists. Then Lynn Page came along. In the '70s she had competed at traditional Irish step dancing competitions known in Gaelic as feiseanna. Page brought the group of Eureka dancers, who had been performing at schools and community functions, to another level. But things had changed in the Irish step dancing world, from Page's day when front heel clicks that kicked up to waist height were the goal. The bar had been raised with clicks expected to practically "touch your nose."
Enter Sinead Yeates-Kelly, an accredited teacher of Irish dance whose mother was born in Ireland. For the last 10 years, Yeates has regularly offered workshops at the Studio of Dance Arts. Through an affiliation with the Yeates Academy of Irish Dance in Portland, the students here are eligible to enter local, regional, national and international Irish dance competitions. That's where the award-winning appellation comes in. Over the past seven years, 15 members of the Irish Dance Company have placed at feiseanna at the high championship level. In 2009, pre-teens Johanna Anderson and Sophie Northern traveled across the country to compete in the World Irish Dancing Championships in Pennsylvania. Continuing the tradition, this year an 8- and a 9-year-old attended their first feis.
Although Morgan finds the number of awards the dancers bring home "amazing considering the fact we're not in a big city," she is no stranger to dancers who grew up studying at her studio going on to success in the greater dance world. It is no small feat to get into a dance company in one of those big cities. Two of the studio's alumnae currently have coveted paying gigs in modern dance companies. Jessica Swanson, who once danced for Doug Varone and Dancers in New York City, is a member of the Joe Goode Performance Group in San Francisco. Chelsea Retzloff recently began working with Shen Wei, who choreographed the remarkable first section of the opening ceremony of the Beijing Winter Olympics.
You can see more than 100 dancers of all ages who train at Studio of Dance Arts in both sections of their upcoming performance. The first half of the program, Thumbelina's Garden, is an original ballet choreographed by Morgan featuring three Irish dances. In the second half, along with performances in a myriad of dance styles, are three more appearances by the Irish Company Dancers, two different levels of competitors and dancers who don't compete, but step for the love of it alone.
The Studio of Dance Arts celebrates its 39th Annual Dance Performance on Tuesday, June 28, at 7 p.m. at the Arkley Center for Performing Arts. Tickets are $15 and may be purchased at the box office or online at arkleycenter.com. For more information call 442-1956.
Also at the Arkley: Ferndale Dance Academy presents Pure Imagination on Friday, June 24, at 7 p.m. It's a whimsical journey through a child's imagination showcasing a variety of music and dance in settings from the grassy plains of Africa to the Eiffel Tower in France, with the addition of vivid projections, including animation, behind the dancers.