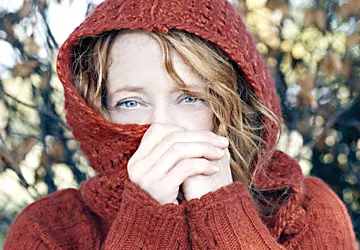 Patty Larkin. Photo by Jana Leon.
In a certain sense, Patty Larkin is your basic singer/songwriter, a woman with a guitar who plays chords and melody, works on them to fit her intelligent lyrics. She's been doing it for 20-some-odd years, starting out busking on the streets of Cambridge then learning jazz licks at Berklee. Then about 10 years ago her music took a new turn. Experimenting in her home studio on Cape Cod, she began adding new layers to her sound, typically working with an engineer and a producer, bringing in musicians to create her own luscious take on alt. folk.
For her new record for Vanguard, Watch the Sky,she took the next step and did it all herself: played all the instruments — acoustic and electric guitars, lap steel, National steel, banjo, bass, bouzouki, toy organ and electronic loops — and engineered the recordings on her own.
She explained the process when I called her at her studio last week. "I would go to my friend's barn in the morning and write something, then come back before three o'clock when the nanny left — I've got two adopted kids now — then basically work at night or whenever I could on the production.
"The other thing that was different, because I had developed this catalog of loops of sounds and ideas for songs, I was able to go back and use those as the basis for new material. Like the song "Beautiful' that came from something I had in storage. "All Souls' was another looped track I had done. I wrote much of it on the fly."
The result is a very 21st century sound (asked what she's been listening to, she mentioned Bjork and Beck, and you can hear echoes of their sort of sound in her work), but the heart of it all is still the song. And she writes great songs.
"I think the important thing for me as a songwriter is to get the chords and melody down," she said. "Even if you change the lyrics, there's something that happens in the initial stage of writing that is really important. You find the personality of the character you're singing in. It might be a tiny little inflection, or the amount of vibrato, or where you go with the notes."
What she describes is evident on "Hallelujah," a song on Watch the Sky, where the lyrics say "I'll see you "round in the downtown." The notes float up and down with pauses that take you for a ride not unlike the emotional ride in the lyrics.
Now the trick is translating the laptop layers into live performance. "On the new material I play about half with just acoustic guitar and vocals," she said. "The other half is on electric or with looping. I use the gizmos to get those flavors going. I've deconstructed the songs, got them to a place where I can play them live. It seems to be working."
You can hear what Patty's been working on Tuesday, April 29, when she plays at the Arcata Playhouse. Another talented indie folk singer/songwriter, Peter Mulvey, opens the show, bringing Notes from Elsewhere.
Collie Buddz and The New Kingston Bandheadline this week's big reggae show Friday at the Arcata Community Center. Born in New Orleans, raised in Bermuda, Mr. Buddz blends hip hop and soca with Jamaican one-drop riddims for an island sound, typified by his massive hit, "Come Around." He's on the road with straight-up underground hip hopper The Grouch, from L.A.'s Living Legends crew. Local DJs Selecta Primeand Dub Cowboyspin before, between and after.
On the Celtic side you have Scatter the Mud celebrating release of their new CD, Scattered Mud: Celtic Music from the Redwood Coast, on Friday — where else but at Gallagher's Pub.
Also on Friday, soul manEarl Thomas sings for a dinner fundraiser for Union Street Charter School (I'll always think of it as Equinox).The showat the Unitarian Fellowship Hall also features Pokololo, the gypsy jazz band that typically plays weekends at 3 Foods Café.
Remember I was saying that the new venue, the Li'l Red Lion, was jumping into the alt. booking game. In that world, you book one show and bands from all over start calling. This week they have three shows: Friday it's drone rockers Indian Jewelryfrom Swarm of Angels (out of Texas), plus locals Nipplepotamusand Pipes o' the Doctor of Witchcraft. Sunday they have We Versus the Sharkfrom Athens, Ga., plus some local act TBA. Monday, April 28, it's a four-band show with Parisian garage rockers Crash Normal, ambient psyche rockers Vampire Handsfrom Minneapolis, and locals 33 1/3and The Baby Arms.
Saturday night at The Pearl, it's Strix Vegawith Seattle's Panther Attackand Humboldt's own The Common Vice, all for just five bucks. Says Andy of Strix, "As the economy is going down the tubes and rumors of inflation lick our very ears, we don't feel quite right passing that along to our dear friends and fans. To buck the current trend, we are going to try and actually lower the cover charge at upcoming Strix Vega shows. How will we eat, you ask? Well, I'll let you know when we find out."
Humboldt Brews goes alt. Saturday with three cool local experimental music combos: Universalia Jane, No Not Yet and Arrogant Hare. (Note that A. Hare took the place of previously booked Tanuki.) Deric and Tanuki play Monday at Aunty Mo's with Minnesota indie rockers His Mischief, touring with their new EP, Summer's Eve.
Jumping back to Thursday, April 24, Humboldt Brews has alt. bluegrass by Poor Man's Whiskey, a jammy electric string band from Sonoma with a sense of humor.
Let's hope the rain lets up before Saturday's Sustainable Living Arts and Music Festival, since it's an all-day outdoors thing, this year taking place on the grassy lower soccer field (soon to be the site of some building, hopefully with sustainable design). The Marching Lumberjackskick things off (at 11:30) followed by The HSU Calypso Band(noon-1 p.m.) fresh from their Friday night show at the Van Duzer with the Percussion Ensemble. Since they've been around for over 20 years now, you should know by now that the Calypso Band is a steel band, and a good one. HSU econ prof Dan Iharatakes the solar-powered stage at 1, then it's a short indie rock set from the KRFH Battle of the Bands second place winner, Svelte Velvet.(Clay's pick for winners, they also play Thursday at the Boiler Room with Oakland indie quartet Mist and Mast). Humboldt Circusclowns, jugglers and acrobats follow (2 p.m.), then back-alley classic rock jammers Sour Cream(at 2:30), who won the Battle of the Bands. John Meyersfrom the Campus Center for Appropriate Technology talks about eco-groovy things (at 3:20) followed by the sole imported band, Sourgrass, a funk/rock jamband from Santa Cruz (4 p.m.). Unidentified Slam Poets take over until the headliners, The Bump Foundation, who have asembled a James Brown tribute set for the occasion (6-7:30). Closing the show you have a whole lotta drums: Bloco Firmeza, Arcata's finest Brazilian batucada brigade. Bloco has a new CD just out, SambArcata, allowing you to take the drum line and folkloric chorus home with you.
Elsewhere in Arcata Saturday, it's the 6th annual Kinetic Lab Open House (at 8th and N sts.) with krazy kinetic miniature golf, a chance to soak up some kinetic madness and, according to the poster, "music." What does that mean? I asked D-Wayne Flatmo. "We don't even have a musical act yet," he admitted, "might be canned music." What, you couldn't get Spudgun to commit?
Later on that night at Mazzotti's local rockers are "Rockin' for Roxie." I don't know much about Roxie Maurer; I'm told she's the kind of person who helps others when they need it. Like a lot of folks, she's facing financial trouble because she needs medical help and our stupid healthcare system doesn't work. The Delta Nationals are down for the cause — they've enlisted Donna Landry to add vocals on a few numbers and bluesy Ron Perry to blow some harp. After that it's Wepeel, Arcata's No. 1 Weezer cover band. They'll have the proverbial Dutch auction to pull in more dough and for those who can't be there, there's an account set up at Bank of America; just tell 'em you want to donate to the Rockin' for Roxie fund.
Coming up Thursday, May 1, a flash from the '80s as Cowboy Junkies hit the Van Duzer (with Austin's Monahans opening). More on this one next week, but if you're interested a few tickets are still available.