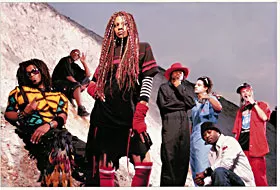 Whild Peach guitarist David Whild wasn't quite sure what the band was doing in Bozeman, Mont. "We're further and further from home everyday," he said when I called him at a Bozeman motel. Home is Atlanta, Ga., and has been since Whild and his musical partner Peach moved there from Dallas in 1994. "The thing we did in Dallas, we were called Deep Elem, it was an original thing with our own songs, just totally alternative anything. At that time there was nobody doing what we was doing and we ran into a lot of resistance, people who didn't understand a black band playing this alternative rock funk kind of thing. It was funky, but didn't fit any certain category."
Whatever it was, someone at Capital Records liked it and the label brought the band to Georgia -- unfortunately the deal went south before there was a record in the can. "They had some changes, staff shakeups," said Whild, "so we got out of our deal, but we stayed in Atlanta."
The timing was right. While West Coast and East Coast hip hop factions still ruled, the dirty south was on the rise and Atlanta was at the heart of things, with producers cranking out hits. "We started playing around town and evolved more toward hip hop, and people started asking us to do sessions and that kind of thing. That's how we hooked up with Organized Noize and The Dungeon Family, then Goodie Mob and Outkast. We ended up playing on their records, writing with them and singing and touring. Once Outkast started going on tours and doing all these TV shows and going around the world, that took up two years at least, so we didn't do anything as Whild Peach for a while."
Whild and Peach worked with André Benjamin (aka Dre) and Antwan "Big Boi" Patton of Outkast from their second album on, a whirlwind period that culminated in the 2004 double-disc, Speakerboxxx/The Love Below , which sold five million copies and became the first rap album to win a Grammy as Album of the Year. It also marked a transition point for Outkast.
"Once Speakerboxxx/ Love Below came out Dre didn't really want to tour," said Whild, "so we had to do our own thing. That's when we started gigging again. And here we are out on the road."
The road brings Whild Peach to Eureka this Thursday, June 14, to play some "slunkymusic" at Red Fox Tavern. If soul/funk/rock is what you're into, you should check it.
The second year of Jazz In June At Benbow Inn begins this weekend. In some ways it's a direct descendent of something called the Rites of Spring Jazz Festival, put together almost three decades ago by the Backwoods Jazz Association, a group of SoHum jazz fans and players. That evolved into Jazz on the Lake, a big event at Benbow that fell by the wayside a few years back.
"Last year the idea came back. John Porter asked about seeing Jazz on the Lake revived," said Jim Wilde , who works by day as accountant for the Benbow Inn and plays jazz guitar at nights, at least when there's somewhere to play. Needless to say, Jazz on the Lake was good for business at Benbow. Plans were hatched, and a major headliner was lined up, then the Backwoods Jazz folks got cold feet. No one was ready to put up the required cash. Instead, Wilde explained, "We decided to do music on the patio instead." It went well and this year it's back, with two almost solid weeks in June and more to come in August.
Wilde handled the booking. "I just called my favorite people, they all said, `Heck yeah,'" said the guitar player. Things kick off Saturday, June 16, with guitarist Bruce Forman leading a trio including scatting bassist Kristin Korb and veteran drummer Joe La Barbera . The jazz keeps rolling Sunday, June 17, with the Sheldon Brown Quintet featuring Brown on sax and clarinet and guitarist Dave MacNab .
Tuesday, June 19, it's SoHum's own Humboldt Time with Wilde on guitar, Michael Curran on drums, Geoff Daugherty on bass, Jimmy Durchslag on trombone and Sam Maez on trumpet.
The Sam Maez Quartet plays Wednesday, June 20 (that's Humboldt Time minus the trombone). Then next Thursday, June 21, catch the latest incarnation of Equinox , a combo drawing on Backwoods Jazz members, formed to open a Jazz on the Lake show years ago, which includes all of Humboldt Time plus Francis Vanek and Les Scher on saxophones. The jazz series continues every night except Mondays through the end of June. Wilde recommends reservations since some shows will sell out. Call the Inn for details.
Things are looking up for the building at 47 West 3rd Street, home of Synapsis , Empire Squared and The Placebo . Plans are afoot to bring the currently shuttered warehouse up to code so it can once again become a performance space, and the city seems to be going along with their ideas. They take the plans to the planning commission some time this summer. Of course the work is going to cost money, thus the benefit this Friday, June 15, at 321 Coffee, something they're calling an " Instant Art Show " with a crew of artists creating (and selling) work on the spot while DJ Raj spins arty music. Bring cash so you can take some art home.
Live music in Fieldbrook? That's right, the Fieldbrook Store begins a summer series this Friday, June 15, with those ubiquitous youngsters Steel Toed Slippers . Next Friday, June 22, is open mic night, Wrangletown plays old timey June 29, and there's more to come.
Saturday is the annual Arcata Bay Oyster Festival on the plaza with too many mollusks and music by those ragin' Cajuns The Bayous Swamis , bluesman Earl Thomas (who is also singing at Holy Trinity Church on Sunday; see calendar for details) and Kulica . The always-groovy Kulica also plays Friday night at Red Fox Tavern, opening for ekoostik hookah a relatively venerable jamband out of Ohio (15 plus years old), with the usual mix of psychedelic rock, blues, funk, jazz and bluegrass. The band is at the Fox for a two night run with local reggae rockers Mobile Chiefing Unit opening Saturday night.
Alert all Scandinavian Celtic rock fans: Your favorite band, Tempest , is playing Saturday night at the Blue Lake Casino's Sapphire Palace -- for free.
Apple Barner from Gold Beach offer "cow-tipping, sheep-poking funk" Saturday at Six Rivers. They explain that growing up on the extreme southwest coast of Oregon in the shadow of the Siskiyou Mountains meant, "There is no underlying regional musical style such as those found in the Deep South, farm country or the inner-city. It's kind of a no-man's land down here. The rest of Oregon forgets about us, and we don't belong to northern California. We just do our own thing." The result is music that they promise, "is somewhat based on reality or a form of it," including, "some songs you might find you even like."
Norm from Bad Kitty Productions is at it again, this time bringing Detroit-based psychobilly/gothabilly madmen the Koffin Kats to the Boiler Room Sunday, June 17. Wear black.
With all due respect to KHUM-FM, the only local commercial station I tune in regularly, I have to say that the "radio without the rules" slogan is pretty much a relative thing. The deejays abide by less rules than most, but there's always the FCC regulations to think of and the potential fine for saying fuck or shit or some other arbitrarily banned word is huge. The pirates of the Humboldt Free Radio Alliance, on the other hand, ignore all rules. Fuck that. Since the low-power broadcasters at 99.9-FM don't have pledge drives like public stations, they throw the occasional benefit, typically at the Alibi, like the one Saturday night with renegade hillbilly Jay Dirt and Henpecker , who are either an anti-war folk punk band, an anti-folk war punk band or an anti-funk polka band, allegedly from Manila, but in truth from all over the map. Wherever they're from, they're funny. Support your local pirates and be there.