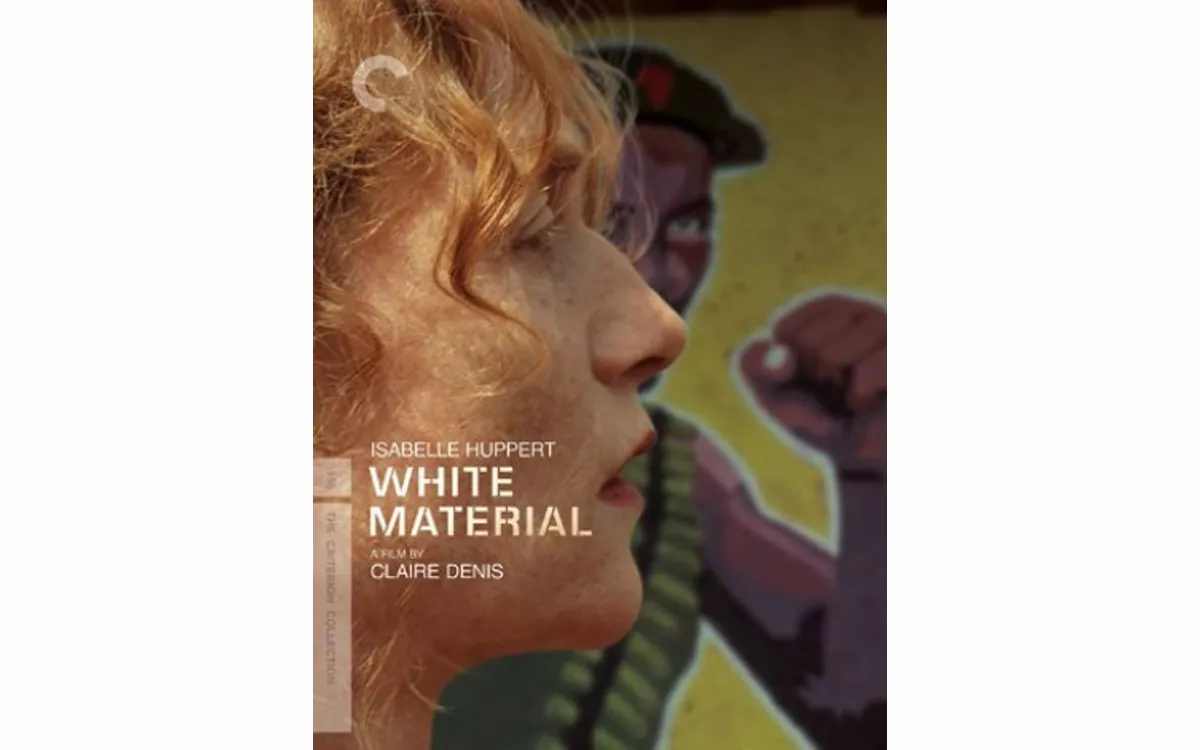 Directed by Claire Denis - Criterion DVD
White Material
French filmmaker Claire Denis often structures her films like a good fiction writer; her films are character-driven, dropping the viewer in the middle of an ongoing narrative while leaving out a few details and never resorting to any tidy endings. White Material, Denis' 10th feature film, returns to Western Africa for the third time, joining 1999's Beau Travail and her 1988 semi-autobiographical debut, Chocolat. The story of White Material presents her strongest criticism of colonialism in present-day Africa. It is also her finest work to date.
Prolific actress Isabelle Huppert often plays extreme characters, such as in her fearless performance as Erika Kahout in La Pianiste (The Piano Teacher). Here she delivers a powerful performance as Marie Vail, who tries to keep the family's coffee plantation running and make one last coffee harvest in the midst of an erupting civil war. Marie's single-minded determination becomes her own undermining as she ignores her family's complex descent into madness, betrayal and delusion. Huppert's portrayal, however, allows for a multi-dimensional characterization of Marie, making it difficult to simply dismiss her.
Denis, who was raised in various parts of Africa (her father served as a French civil servant), returns to Cameroon, where Chocolat took place, though it is not key to White Material's story. The script, co-written by Denis and Senegalese-French writer Marie N'Diaye, borrows from different French colonial African histories and conflicts. Children soldiers, struggling laborers, deposed leaders, armed bandits and militia contrast against well-to-do local officials and colonialists like the Vail family whose own living quarters are luxurious. Denis also includes the presence of the transistor radio throughout the film; a common method of many Africans to obtain information and news. In White Material, it becomes a way to support a deposed leader known as "The Boxer" (portrayed by Isaac de Bankole, who also starred in Chocolat).
The term "white material" refers to Africa's white inhabitants and their material objects -- such as the gold-plated lighter that a young soldier takes from the edge of the Vails' swimming pool. "My question was what is it to be 'white material' -- white people who believe, today in the modern world, that all this bullshit -- slavery, colonialism, racism -- are gone, far away," Denis commented in a recent Filmmaker interview. Denis, likely from her own experience, understands what it is like to be a white outsider, or "minority," and how that whiteness is tied to her country's colonialism.
Following on the heels of the superb 35 rhums (35 Shots of Rum), White Material is another document of Denis' masterful storytelling and filmmaking. Coupled with new cinematographer Yves Cape (Denis has almost entirely worked with cinematographer Agnes Godard), whose inventive, mostly hand-held camera work adds to the film's immediacy, and Huppert's stunning performance, White Material establishes Denis as one of the most significant and important filmmakers in contemporary cinema.