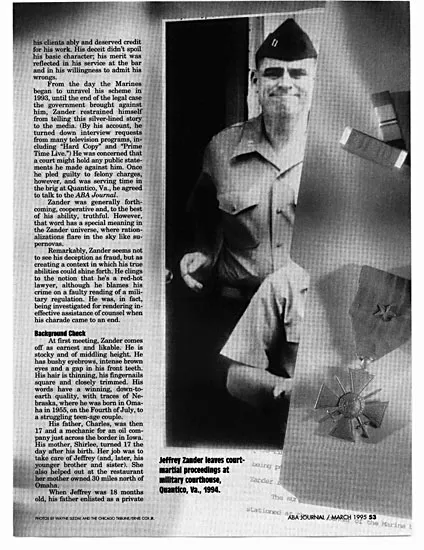 Zander in the March 1995 issue of the ABA Journal.
Jeffrey Zander didn't last long as the executive director of the Redwood Region Economic Development Commission (RREDC). He was hired in October 2008. By the following January, he had been placed on paid administrative leave. Four months later, in May of this year, he resigned, leaving behind a board of directors so cowed by the threat of litigation that most refuse to discuss the basics of his tenure -- even with each other.
It was a bad situation, and it came at one of the worst possible moments. For economic development agencies everywhere, the last few months have been chock-full of federal stimulus project proposals and other sorts of grant-chasing. For RREDC -- a joint-powers authority of 20 local government agencies -- having a lead staff member on probation meant that those months were largely wasted, according to Trinidad City Councilmember Julie Fulkerson, that city's representative on the commission.
"I was just personally frustrated that there was no director for six months -- or for eight or nine months," Fulkerson said Monday.
No one is saying what, exactly, lead to the instant dispute that placed Zander at odds with the board. But if the reactions of several members are to be believed, it had nothing at all to with the fact that Zander had something of a checkered past. In fact, it would seem that until very recently the board had no idea that the man it had hired to lead economic development projects in Humboldt County was a convicted felon celebrated enough to earn himself a spot in a book titled Masters of Deception: The Worldwide White-Collar Crime Crisis.
For seven years in the late 1980s and early 1990s, Capt. Jeffrey Zander served the United Stated Marine Corps as a judge advocate general -- a lawyer who both prosecuted and defended soldiers in military court. He had risen to a prominent position in the corps, both on the strength of his legal work and his decorated military history. But that was before it all fell apart in 1994, when the Corps discovered that their rising star wasn't actually an attorney -- that he had actually stolen the identity of a member of the California bar to get fake legal credentials.
Zander's story was spelled out most completely in the March 1995 issue of the ABA Journal, a publication of the American Bar Association. The cover story that month was titled "The Jagged Edge," and it was based partly on interviews that veteran legal writer Lincoln Caplan conducted with Zander after the court-martial trial that sent him to military prison for four months.
According to Caplan's account, Zander was a graduate of the Brigham Young University law school who never bothered to take the bar exam. After school, while working for the Marines in California, he decided to become a judge advocate general. To accomplish this, he faked legal paperwork to make it appear as if he were a different person -- James Zander, an actual California attorney. With that paperwork, he obtained a California Bar Association membership card in his own name, presented it to the Corps and signed up for the JAG program. Caplan reports that he was an extraordinary success -- he ranked first in his JAG training class of 300, and later would win 63 out of 64 cases working as a prosecutor in Okinawa.
But Zander's self-invention didn't end with his legal credentials. He also made up a fake military history, which made it appear as if he had served in combat when he had not. He falsely claimed that he had won several medals for valor, including the Bronze Star, the Purple Star, the Antarctica Service Medal and the French Croix de Guerre.
After this all came to light, Zander avoided a seven-year stint in the brig by arranging a plea bargain to felony charges including false statements, wearing unauthorized awards and 20 counts of conduct unbecoming an officer. According to Caplan, though, the Marines were forced to exonerate or partially exonerate 21 convicted soldiers who Zander had represented as defense counsel. The service has not forgotten the case; an article in the Winter 2006/Spring 2007 issue of Military Law Review contains a stinging assessment: "Capt. Zander, who had eight years enlisted service in which to absorb the military ethos, lied about core aspects of what we all share and value as Soldiers and Marines: combat, and selflessness, and valor."
How Zander came to reinvent himself as an economic development expert in the years after his court-martial is still unknown, as is how he came to be hired to lead one of the most influential economic development agencies in Humboldt County. Attempts to reach Zander at his home in Utah were unsuccessful, and the lips of RREDC are tightly sealed. Blue Lake City Councilmember Sherman Schapiro, chair of the RREDC Board of Directors, was reached at his home Monday; he said only that he had nothing to say.
When asked for a copy of the resume Zander provided to RREDC last year, Zander's replacement -- Gregg Foster, who previously served as the commission's executive director from 1999 to 2007 -- said that he could not provide it, on the advice of the commission's legal counsel.
Fulkerson, who came on to the board of directors at the beginning of the year, said that the commission was under strict legal instructions not to discuss the specifics of Zander's time at RREDC -- not even in closed session, with only other members of the board of directors present. But she did say that none of the information about Zander's background -- which came as a surprise to her -- was a factor in the dispute that led the board to place Zander on administrative leave just two months after he took the job.
"I can tell you that on the face of it, it didn't seem like much," Fulkerson said. "If you were to hear it -- the specifics -- you'd think that this kind of thing happens every day somewhere."