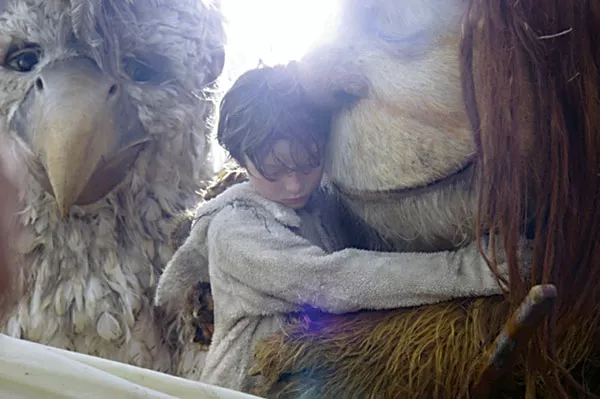 Where The Wild Things Are
Previews
Opening Friday, Oct. 23 is this year's Blair Witch Project-style success story, Paranormal Activity. (The film was made for a reported $15,000.) A young middle-class couple moves into a suburban home where something is not quite right. Rated R for language. 99m. At Broadway, the Minor and Fortuna.
Roman numerals can once again count on Halloween to keep them relevant. The upcoming holiday means we will be graced by Saw VI. The evil Jigsaw is at it again. Want the rest of the plot? See I-V. Rated R for yuckyness. 93m. At the Minor, Broadway and Mill Creek.
Astro Boy is a young robot who has X-ray vision, super strength, unbelievable speed and the ability to fly ... but he is different from the other kids. Follow him on his journey to find acceptance. Aww. Rated PG for action. 94m. At Broadway and Mill Creek.
America cannot seem to quench its thirst for vampires lately. A freshly bitten 14-year-old vampire named Darren joins a circus freak show and becomes quite the attraction in Cirque du Freak: The Vampire's Assistant. As he grows more powerful, Darren becomes the pawn of the more evil vampires. Rated PG-13 for supernatural violence. 109m. At Broadway, Mill Creek and Fortuna.
Officially opening Wednesday, Oct. 28, the King of Pop will be presented in his cinematic swan song, Michael Jackson's This Is It. Look for advanced screenings on Tuesday at Broadway, Mill Creek and Fortuna.
-- Andrew Goff
Reviews
WHERE THE WILD THINGS ARE. You could argue without fear of contradiction that Where the Wild Things Are is the most ambitious film ever conceived that was inspired by a 10-sentence-long picture-book -- but I don't think even that sentiment does justice to this prickly, hilarious, devastatingly emotional work of art.
Maurice Sendak's classic book certainly hinted at the complex psychology of childhood with its rambunctious wolf-costumed protagonist. Co-writer/director Spike Jonze (Being John Malkovich), however, has found the feature concept lurking beneath Sendak's minimalist text -- and burrowed straight into the heart of a troubled young psyche trying to understand itself.
The owner of that psyche is 10-year-old Max (Max Records), whom we meet while he's chasing down the family dog with a fork. And that's pretty typical Max: He's angry about everything in his family dynamic, from his parents' divorce to the lack of caring he sees in his older sister. So when Max acts out during a visit from his mother's new boyfriend, it inspires an angry reaction from his mom (Catherine Keener) -- and sends Max running out the front door toward a journey across the sea, to an island inhabited by strange creatures.
Jonze co-wrote the script with Dave Eggers, author of A Heartbreaking Work of Staggering Genius and founder of the McSweeney's publishing empire. They do a brilliantly efficient job of establishing the stuff that occupies Max's churning mind. From a frustrating run-in with his sister's friends, to the casually apocalyptic comments by his schoolteacher about the sun's finite life-span, Max dwells in a world defined by a sense of powerlessness. He's so desperate to find something or someone to give orders to, he turns one imaginary adventure into an opportunity to reprimand a fence.
So it's no surprise that when Max finds himself in another world -- even one where the natives are large and potentially frightening -- he fashions himself their king. And they seem to need a king, particularly an insecure fellow named Carol (voiced by James Gandolfini), who's demolishing their homes when Max arrives, enraged at the recent departure of his sweetheart, KW (Lauren Ambrose). It's almost as though the over-sized beasts are working through the very same issues Max himself needs to work through.
And it's also nowhere near as simplistic as that. Jonze and Eggers refuse to establish easy one-to-one correspondence between any denizen of the Wild Things' world and Max's family life -- Carol at times serves as father figure, at times is more like Max himself -- while still understanding a fundamental truth of childhood play. Make-believe for Max becomes his tool for confronting the emotions and questions that anger, frighten and confuse him. When the creature Judith (Catherine O'Hara) responds to one shouted exchange with a distressed, "You're not supposed to yell back," it's a way for Max to articulate his frustrations with his mother; he comforts the smaller, often-frightened Alexander (Paul Dano), who feels that nobody every listens to him. All the creatures are parts of Max, and all of them are parts of his external life.
Yet all of them are also magically and perfectly distinctive. Jonze takes a calculated risk by telling this story using the decidedly old-fashioned, pre-CGI approach of costumed actors playing the creatures, but the combination of imposing bulk and tactile cuddliness works perfectly to match the mixture of love and fear with which Max approaches his human family. The voice actors are uniformly terrific, particularly Gandolfini, who makes Carol as sympathetic and mixed-up as Max himself. Their uneasy relationship becomes the challenging pivot point of Where the Wild Things Are; when Carol and Max share a howl of mutual grief and loss, don't be surprised if you're bawling your eyes out.
It's hard to know what most kids will make of a movie that, while it's fundamentally about them, isn't really for them. Jonze and Eggers include enough episodic fun that it could keep youngsters entertained, but even when the characters are wrestling with each other, the filmmakers are wrestling with ideas far more challenging than the typical "be true to yourself" platitudes of so many kid-flicks. Max needs to confront his anger over his home not being the perfect, safe fortress he wants it to be, and his guilt over feeling angry at the people he knows he's supposed to love. In a world not occupied by humans, Where the Wild Things Are watches with joy and compassion as Max gives himself -- and the people around him -- permission to be human. Rated PG for adventure action. 94m. At Broadway, Mill Creek and Fortuna.
-- Scott Renshaw, Salt Lake City Weekly
Continuing
CAPITALISM: A LOVE STORY. Michael Moore vs. Wall Street. Who will surrender first? Rated R. 127m. At the Movies.
CLOUDY WITH A CHANCE OF MEATBALLS. Based on the beloved children's book, wherein it rains food. The cure for the recession? Rated PG. 90m. At Broadway and Mill Creek.
COUPLES RETREAT. Vince Vaughn leads a group of married friends to a tropical island resort in Couples Retreat. They soon discover that participation in the hotel's couples therapy is not optional. Rated PG-13. 108m. At Broadway and Mill Creek.
INFORMANT! Matt Damon gains weight and plays a whistleblower who exposes his company's price fixing scheme to the FBI. Rated R. 108m. At the Movies.
ICE AGE: DAWN OF THE DINOSAURS. The gang makes a rescue mission for Sid that takes them into a mysterious underground world where they have close encounters with dinos and generally run amuck. Rated PG. 87 m. At The Movies.
INGLOURIOUS BASTERDS. A special unit of Jewish-American soldiers is sent behind enemy lines to spread shock and awe among German troops in Nazi-occupied France in Quentin Tarantino's latest film. 153m. At the Movies.
INVENTION OF LYING. In a world where no one has ever lied, someone starts lying. Hilarity ensues. Rated PG-13. 88m. At the Movies.
JULIE & JULIA. Two chicks for the price of a flick! N. Ephron intersperses Julia Child biopic with tale of bored 30-something New Yorker seeking inspiration. Rated PG-13. 123m. At the Movies.
LAW ABIDING CITIZEN. Jamie Foxx plays an upstanding family man whose wife and daughter are murdered. When the killer receives a light sentence, look out. Rated R. 122m. At Broadway, Mill Creek, the Minor and Fortuna.
PONYO. "The Little Mermaid" through the lens of Japanese animation Rated G. 103m. At the Movies.
STEPFATHER. When Michael returns home from military school, he finds that his mother has fallen in love with another man who is not who he seems. Rated PG-13. 102m. At Broadway, Mill Creek and Fortuna.
TOY STORY & TOY STORY 2 IN 3D. Double-feature. How much Pixar can you handle, folks? Test your limits. Rated G. 183m. At Broadway.
WHIP IT. Drew Barrymore makes her directorial debut with a Roller Derby flick. Sweet. Rated PG-13. 113m. At Broadway.
ZOMBIELAND. Woody Harrelson hilariously blows peoples heads off. Kinda like Natural Born Killers except they're already dead. Rated R. 88m. At Broadway, Mill Creek and Fortuna.