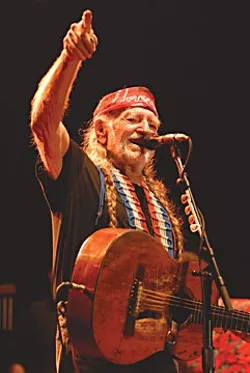 Photo by Scott Newton
Willie Nelson
OK, Humboldt, please take a breath. We are pleased to announce that rumors of Willie Nelson's sobriety have been greatly exaggerated.
The weed world (at least the portion of it that has reached a certain age) lost its collective mind earlier this month when everyone's favorite stoner — you know, the guy who once sparked a joint on the White House roof with the president's son and now has a whole line of high-quality buds bearing his name — seemingly implied he'd hung up his rolling papers.
"I don't smoke anymore," the 86-year-old country music legend told Texas television station KSAT. "I take better care of myself. I have abused my lungs quite a bit in the past, so breathing is a little more difficult these days and I have to be careful."
Headlines flooded — and still continue to flood — the internet. The (trash) celebrity gossip website Page Six lead its story with: "It's like Michael Jordan retiring from the NBA. It's like Donald Trump quitting Twitter. It's like Lindsay Lohan forsaking drama. Willie Nelson has quit weed."
The only trouble — aside from the fact it wouldn't really be like any of those things — is that it's not true.
According to People Magazine, which, as odd as it is to say, appears to have done a bit of real reporting here, Nelson's publicist Elaine Schock said the old man has simply given up cigarettes, saying he does "still taste the flower."
"Willie doesn't smoke any more or any less [weed]," she told People.
At least there are a few things we can still count on in this upside down world.
•
In far more alarming news, earlier this month as world leaders convened in Madrid to discuss the climate crisis that promises to raze the Earth, California Energy Commission staff offered a draft analysis of projected statewide electricity consumption over the next decade.
It isn't great.
Most notably for the purposes of this column, according to a report in the energy sector publication CA Current, staff is projecting that cannabis cultivation is increasing — and will continue to increase — electricity consumption in the Golden State. More specifically, staff projects industrial cannabis farms will add 1,600 gigawatt hours of electricity demand over the next 10 years.
How much is that? A lot.
You know those kilowatt hours that show up on your PG&E bill? Well, a single gigawatt hour is equal to 1 million of those.
Fun side note: It only took 1.21 gigawatts of power to fuel the flux capacitor that pushed Doc Brown's DeLorean through time in Back to the Future. But in real life terms, a gigawatt is a gigantic amount of electricity.
According to the U.S. Department of Energy, it would take 412 utility-scale wind turbines panels churning for an hour to produce a single gigawatt of electricity, which is enough juice to power 110 million LED lights. Estimates vary but, conservatively, 1 gigawatt is enough electricity to power 300,000 homes.
And we're talking about 1,600 gigawatt hours of electricity, or 160 a year over the course of a decade.
The good news is that with cannabis now regulated, tracked and traced within California's legal markets, consumers have more power to shape the industry than ever before. A recent survey of Humboldt County cannabis farms by New Frontier Data found that 45 percent grow their product outdoors under the sun and 32 percent power their farms with solar or other renewable energy sources.
Make sure you're buying local and sun grown. It's the only ethical choice.
Thadeus Greenson is the Journal's news editor and prefers he/him pronouns. Reach him at 442-1400, extension 321, or thad@northcoastjournal.com. Follow him on Twitter @thadeusgreenson.