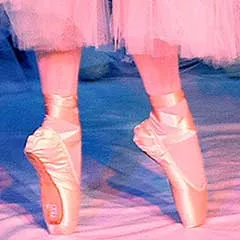 Virginia Niekrasz-Laurent has been training ballet dancers here in the vast expanse that lies behind the Redwood Curtain, as far away from the dance Mecca of New York City as one can get, since 1972. Going further back into Humboldt dance history, she began her studies at the Betty Merriweather Studio, the very first in the county, opened in the 1940s on H Street in Eureka. After dancing in New York City and France, Niekrasz-Laurent took over the school, which, in its latest incarnation, is called the Dancers Studio.
Niekrasz-Laurent has a reputation for training fine dancers. Her skill was evident on a winter evening as we were privy to the many levels of technical acquisition a committed dancer moves through as she matures from baby ballerina into captivating performer.
I often ballyhoo at the great expense it takes to put on ballet with all its accoutrements. In fairness, mounting a full-scale ballet require a spacious stage for the large cast and fast-moving floor patterns, along with distance from the audience to set the aura of magical elegance. I have to give Niekrasz-Laurent and her dancers credit. In these trying economic times they were not daunted by the austere performance space offered by Redwood Raks, more suitable for modern dancers expected to perform in spaces the size of a walk-in closet.
I never saw Niekrasz-Laurent's staging of The Nutcracker when she directed the Redwood Concert Ballet. My general feeling is if I ever see another Nutcracker my head will explode, but her Brava! company's rendition of the "Waltz of the Snowflakes" section had me holding on to my seat. These young women kicked it out of the studio, nailing the precision, timing and spacing at the speed of light on those pesky pointe shoes.
Although it's beneficial for dancers to train for chunks of time at a school with a particular aesthetic, the young brigade of dancers in the area have been moonlighting, gaining untold performance experience. It's wonderful to watch them move up the ranks. For the first time I saw Jolie Hossack en pointe who looked like she was born wearing the shoes, and Jada Owens stepping out with a cane like a veteran on Broadway. Assistant Director Heather Sorter's daughter, Harmony, sailed through every step with poise much beyond her years, apparently having inherited her mother's dancing talent.
The Goodman sisters, powerhouse Taryn Middaugh, the charismatic duo of Amy Paige and Halie Gordon, lovely redhead Caitlyn Newkirk, all arms and legs and striking performers Danielle Chien and Carrie Maschmeier (who I would love to see in some modern work), and all of Niekrasz-Laurent's older students danced graciously, with chops to spare, all night long.