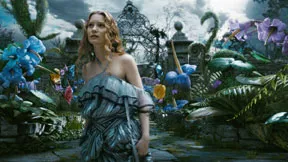 Previews
Opening Friday, March 12, Matt Damon stars in Green Zone, which, despite sharing the same lead actor, director and basic subject matter of the films chronicling the exploits of former CIA agent Jason Bourne, is not a "Bourne" flick. Damon plays Officer Roy Miller, who has been dispatched to Baghdad in 2003 to find Iraq's weapons of mass destruction but is hindered by faulty intelligence. Surprise! One would assume that if you enjoyed Damon and director Paul Greengrass' previous collaborations together, you'll feel right at home with this one. Rated R for violence and language. 115m. At the Broadway, Fortuna and Mill Creek.
You want a romantic comedy? How about She's Out of My League? An average Joe airport security agent lands a beautiful, successful, outgoing babe, much to the surprise of his friends and family. How will this odd couple make their relationship work? Rated R for language and sexual themes. 105m. At the Broadway, Fortuna and Mill Creek.
Twilight heart throb Robert Pattinson stars in Remember Me, about a rebellious young man whose strained relationship with his father makes him avoid relationships altogether. That is, until she enters the picture. Rated PG-13 for violence and sexual themes. 112m. At the Broadway and Mill Creek.
A handful of classics will grace the screen at the Arcata Theater Lounge this week. Jeff Bridges may have won an Oscar for his role in Crazy Heart, but he will always be "The Dude." The Big Lebowski (1997) plays on Friday, March 12 at 11 p.m. with White Russian drink specials. The surf opus Big Wednesday (1978) will accompany the Surfrider Benefit Night on Saturday, March 13 at 7 p.m. Atreyu! Relive some childhood with The Neverending Story (1984), plays Sunday, March 14 at 6 p.m.
-- Andrew Goff
Reviews
PRECIOUS: If you were determined to see all 10 Best Picture nominees in the theater before last Sunday's Academy Awards, you could have -- barely. Precious (full title, Precious: Based on the Novel 'Push' by Sapphire) finally arrived at the Broadway last week, just two days before the Oscars and four days before hitting DVD shelves (it's out now). The film took home two golden bald dudes -- one for Geoffrey Fletcher's screenplay and another for stand-up comedian Mo'Nique's eruptive performance as Mary, the brutally abusive mother of the title character.
As you've likely heard by now, this film, set in late-'80s Harlem, delves into some bleak, bleak places: Claireece "Precious" Jones (newcomer Gabourey Sidibe) is 16, illiterate, morbidly obese and pregnant with her second child -- both the result of rape by her own father. While absorbing every form of abuse imaginable from her monstrous mother, plus neglect and ridicule from classmates and strangers on the street, Precious somehow maintains a vibrant, MTV-fueled fantasy world of fame, high fashion and flashing cameras (much like Sidibe at the Oscars, come to think of it). When the principal at her school arranges for Precious to attend an alternative high school, she meets a compassionate schoolteacher (Paula Patton) who finally shows Precious some hope and kindness. Soon, Precious begins to see her life as her own, which is as frightening as it is liberating.
Director Lee Daniels manages to portray misery convincingly -- viscerally, even -- without making you feel miserable (at least, not for too long). You can practically smell the stench in the Jones' squalid apartment (shot in grease-orange hues by cinematographer Andrew Dunn), and you may feel momentarily ill in certain scenes, like when Precious' mom describes the origin of her daughter's sexual abuse to an overwhelmed social worker (Mariah Carey!). This is powerfully unpleasant stuff, made all the more so for its gritty believability. But throughout, Daniels throws in music, humor and flashy editing in counter-intuitive, even daring ways. Done poorly, this type of kinetic film-making can be abrasive, but Daniels pulls it off, masterfully cutting the anguish with hints of joy.
Precious is provocative, audacious (Lenny Kravitz as a nurse?!) and melodramatic -- and it all comes together beautifully thanks to the evident passion of everyone involved. Mo'Nique makes her character truly repellent while somehow allowing her some humanity. Sidibe shows depth and composure. Even Carey and Kravitz are good. Ultimately, Precious is as bold and brave as its title character. Recommended. Rated R for child abuse including sexual assault (though it's not graphic) and pervasive language. 110m. At the Broadway.
-- Ryan Burns
ALICE IN WONDERLAND: At the end of Disney's Alice in Wonderland we're told that the film is based on Lewis Carroll's Alice's Adventures in Wonderland and Through the Looking Glass, and What Alice Found There. Well, just barely. Screenwriter Linda Woolverton (Beauty and the Beast, The Lion King) uses the characters and the loose framework from Carroll's classic nonsense tales, but the plot comes from somewhere else entirely. Director Tim Burton's fantastical Wonderland is renamed Underland, and it's a dark, sinister place, where Alice gets caught up in a contrived narrative that has little to do with Carroll's fanciful stories.
We first meet Alice as a young girl troubled by a recurring dream, but we soon fast-forward to a 19-year-old Alice (Mia Wasikowska) facing adulthood with trepidations. When she finally falls into the rabbit-hole, she embarks on a Joseph Conrad-style hero's quest (with touches of Wizard of Oz) through a 3-D CGI world that alternates between talking flowers and glowing mushrooms and a scorched-earth landscape with a Disney-esque castle surrounded by a bloody moat where severed heads float.
Alice encounters some familiar characters on her journey -- The Hatter (a top-billed, over-the-top Johnny Depp), Tweedledum and Tweedledee (with Matt Lucas' face) and a wispy Cheshire Cat (voiced by Stephen Fry) -- who become her allies as she finds herself in the middle of a good v. evil power struggle. It seems the nasty Red Queen (a distorted Helena Bonham Carter, in fine form) and her Knave of Hearts (a sinister Crispin Glover) have taken control of Underland from the Red Queen's sister, the frothy White Queen (Anne Hathaway), whose wholesome world seems to be spun from cotton candy.
Spoiler alert: Alice's destiny is foretold on a prophetic scroll that shows her, in Joan of Arc/shining knight drag, slaying the fearsome Jabberwocky (voiced by Christopher Lee). To do so, she must sneak into the Red Queen's castle and find the Vorpal Blade, a magic sword. She gets the sword and slays the dragon as armies clash in the action-packed war-torn third act. If all this is starting to sound like something from a role-playing videogame, it's no mistake -- there's already one for Nintendo Wii.
Before we're done, we've been treated to an incongruous Michael Jackson-esque dance by Depp, and, following an Oz-like scene where Alice decides she wants to go home, we're returned to above-ground, where an empowered Alice moves forward in her real-world destiny and (I'm not kidding) sets her sites on establishing trade with China. Now that's a scary fantasy. Rated PG for fantasy action/violence. 109m. At the Broadway, Fortuna and Mill Creek.
-- Bob Doran
Continuing
AVATAR. Military forces attempt to control and exploit a region and its people, whom they know little about (In 3D). Rated PG-13. 162m. At the Broadway and Fortuna (3D).
BROOKLYN'S FINEST. Ethan Hawke, Richard Gere and Don Cheadle play three New York cops who have a rough day on the job. Rated R. 133m. At the Broadway.
COP OUT. Bruce Willis and Tracy Morgan play NYPD partners in search of a stolen baseball card. Directed by Kevin Smith. Rated R. 107m. At the Broadway, Fortuna and Mill Creek.
THE CRAZIES. Something is infecting the citizens of Ogden Marsh with insanity. Bummer. Rated R. 101m. At the Broadway and Mil Creek.
CRAZY HEART. Jeff "The Dude" Bridges gunned for Oscar gold by playing a washed-up country singer. Rated R. 112m. At the Minor and the Broadway.
DEAR JOHN. Through the years, a soldier stays in touch with his love interest through a continuous stream of love letters. Rated PG-13. 108m. At Garberville.
PERCY JACKSON AND THE LIGHTNING THIEF. The gods of Mount Olympus have walked out of Percy's Greek mythology texts and into reality. And they aren't happy. Rated PG. 120m. At Mill Creek.
SHUTTER ISLAND. Two U.S. marshals investigate the disappearance of a criminally insane murderer on a remote island. Directed by Martin Scorsese. Rated R. 138m. At the Broadway, the Minor, Fortuna and Mill Creek.
VALENTINE'S DAY. An all-star cast led by Julia Roberts stars in this romantic-comedy/savvy studio marketing decision. Feel the love, Rated PG-13. 125m. At Mill Creek.
THE YOUNG VICTORIA. Dramatization of the turbulent first years of Queen Victoria's rule. Rated PG. 105m. At the Minor.