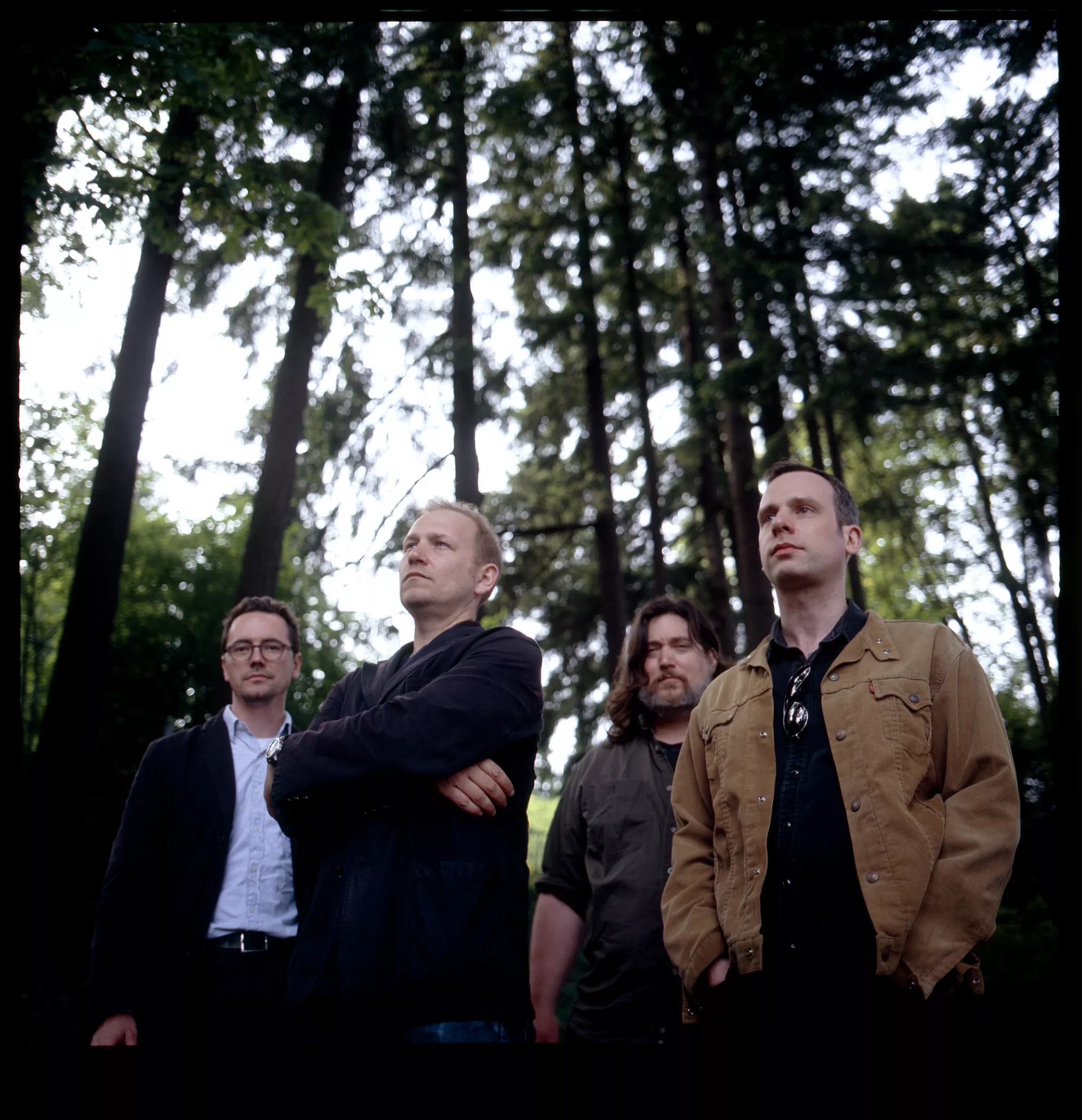 Chicago's The Sea and Cake is one of those bands that falls somewhere between genres with jazz, folk and post rock playing a role in its alt. something music alongside vibes from Brazil and Africa. Formed in the early-'90s by Sam Prekop and Eric Claridge (formerly of Shrimp Boat), Archer Prewitt (formerly of The Coctails) and drummer John McEntire (who also plays in Tortoise) the band seems unafraid of the occasional left turn.
Listening to the latest S&C release, The Moonlight Butterfly, gives you an idea of how this works. After a couple of tracks built around a mix of complex yet gentle guitar sounds and Prekop's introspective lyrics, the title tune comes up: a Moog-ish synth number (sans guitars) written by McEntire. In a call from his home in Chicago, Prekop explained that it was an effort "to come up with an old school sequencer track. I had done a much more electronic solo record [Old Punch Card] that came out not too long before were making the new record, so that kind of stuff was in the air. ... Basically with the record we decided to do whatever we wanted, which is always the case. We always felt like we had a license to try out whatever."
The end goal? "I'm really hoping to make a great record, some day," said Prekop with a laugh. "Still working on it. I think I've been able to do this so long because I'm still learning how to do it. The way music functions and works is still wonderfully mysterious, so I'm not bored with it.
"I feel like I have an advantage in that I'm completely self-taught, not that that's extraordinary talking to a rock musician. I think we're accused of being too educated musically, when in fact I can hardly name the chords I'm playing. I feel like if I knew too much about it all, or why it works the way it does, I might become less interested in it and it wouldn't work as well."
While the band doesn't tour much, a new release is as good an excuse as any, so The Sea and Cake will be working its way along the West Coast this week. You can catch a bit of the mystery when the group stops off in Arcata Sunday to play at the Jambalaya.
Hot young Hawaiian ukulele master Jake Shimabukuro strums and plucks his uke at the Van Duzer Friday night. Don't expect much trad Hawaiian music -- Jake's specialty is rocking out on rock tunes, most recently Journey's "Don't Stop Believing," chosen in an online contest. ("I Shot the Sheriff" came in second.)
The classic reggae vocal trio, The Mighty Diamonds, brings irie harmonies to the Arcata Theatre Lounge Thursday with backing from Yellow Wall Dub Squad. Humboldt's own Madi Simmons opens the show.
Saturday reggae fans have a choice: Blue Lake Casino has Midnight Sun Massive, a reggae/dancehall/soca/ska/calypso septet from Cotati (not to be confused with Midnite from the Virgin Islands). Meanwhile at the Jambalaya, Fritzmaurice Williams, aka Army, a rootsman from St. Croix, Virgin Islands, shares a bill with EastHum reggae stalwarts Woven Roots.
Not reggae, but also Caribbean: The HSU Calypso Band show at the Van Duzer that same Saturday night paired with HSU's Percussion Ensemble playing David Gillingham's "Paschal Dances" among other things.
You'll also hear at least a bit of reggae Saturday at Nocturnum: Ishi Dube is one of the openers, along with The Pyrx Band, a reggae-tinged hip hop/rock party band from Chico. The headliner is Devin the Dude, an old school underground hip hopper from Houston on something he calls the "Harvest Hustle Tour."
Got electronica? Friday Mad Trees Digital presents Liquid Stranger, Skulltrane, Gotcha, W.B.O.D. and Devstep at Arcata Theatre Lounge. Then Tuesday the Jambalaya has Sola Rosa from New Zealand with DJ Touch from Deep Groove Society. Dance, dance, dance.
Let's see. Reggae, check. Electro, check. How about a Portland band? Genre-hopping rock etc. trio The Quick and Easy Boys plays Friday at the Jambalaya along with The Real Nasty from the Bay (equally eclectic).
The Peeping Thomas Worldwide Posse will be out on full force Saturday when P-Tom celebrates Ben Winkler's 40th birthday at Humboldt Brews with some wild/crazy rock and special guests Low Rent from Seattle.
Remember the neo-swing revival of the '90s when all the cool cats were sporting zoot suits and doing the Lindy Hop? One of the biggies out of L.A., Big Bad Voodoo Daddy, is still going strong. The big bad band swings on the Van Duzer stage Sunday night.
Coming Tuesday to HumBrews, Willie's son, Lukas Nelson and The Promise of the Real, on tour with the like-minded rock quartet Revoltaire.
Next Wednesday Huckleberry Flint, the traditional bluegrass/stringband gone semi-electric alt. Americana rocks the Arcata Playhouse with The Lonesome Roses opening the show.
Same Wednesday at Humboldt Brews, catch post-jazz pianist Marco Benevento, best known as half of the Benevento-Russo Duo and for jamming with Garage A Trois and Surprise Me Mr. Davis. Benevento is on tour in support of his latest, Between The Needles & Nightfall, while working on his fourth studio album to be released next year.
If you're in a holiday mood, the Arcata Playhouse has A Playhouse Recessionary Christmas starting Thursday and running this weekend and next. The Playhouse's own Jackie Dandeneau stars with Bob and Lynn Wells in a timely topical musical that sounds kinda like Occupy Xmas. Musical backing comes from The Playhouse Players, two Tims, Randles and Gray and Marla Joy with special guests each night, among them The Marching Lumberjacks and the Arcata Interfaith Gospel Choir.
Also Christmassy, the Eureka Symphony holiday concert on Friday at the Arkley Center. Maestra Carol Jacobson conducts a program that includes a take on The Snowman with narration by Donald Forrest and highlights from Handel's Messiah.
There's also the Artisans Christmas Craft Fair at Redwood Acres all weekend, which has a music component. Spumoni from The Compost Mountain Boys let us know that they'll be playing bluegrass there Friday from 6-9 p.m. and Saturday and Sunday noon until 3. "It's a great fair... Shop local!" he adds.
Last minute note from Phil of thelittlestillnotbigenough alerts us to the fact that his band is playing a house show Monday at The Bat Cave House (11th & K in Arcata) with comic book artist/anti-folk songwriter Jeffrey Lewis and The Junkyard. It's "a multimedia comic art presentation" supporting a new album A Turn in the Dreamsongs, just out on Rough Trade. (Showtime 7:30 p.m.)
Many thanx to Andrew G for humming the last couple of columns while I was on staycation. Following up on last week's comedy blast: Red Fox Tavern hosts Savage Henry Magazine's Cry Party this Thursday with standup by Cornell Reid, Paul Danke, Sean Green, some "very special" guest comedian and The So You Think You Can Funny All-Stards.
Finally, a sad farewell to sweet curly-haired guitarist Bryan Osper from The Bucky Walters and many other local bands, who died Monday night in a collision with a semi-truck. An all around good guy, he was an integral part of the Humboldt music world and will be missed by many. R.I.P.