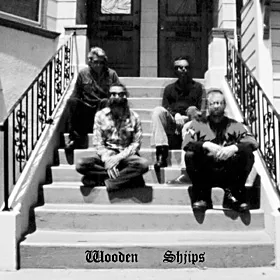 Wooden Shjips eponymous CD
CD by Wooden Shjips.
Holy Mountain Records.

Psychedelic rock has enjoyed a resurgence in popularity over the past few years, and we here in California have been lucky to witness such homegrown talent as Comets on Fire, Citay and Six Organs of Admittance as they have nursed the scene from its humble beginnings to its current hipster status. San Francisco's Wooden Shjips are relative newcomers to the fold, but have benefited from a series of fortunate events, including an opening spot for Roky Erickson, a glowing review in Rolling Stone and a 7-inch on Sub Pop Records. Now, with the release of their much anticipated debut full-length, Wooden Shjips have legitimized their presence in this quickly growing scene.
It is quite fitting that the Shjips hail from the city of the Summer of Love, for they revel in the same hazy feedback that defines that era. What they add is an ominous sense of desperation reminiscent of early Velvet Underground records. It is best displayed on the disc's aptly titled opening invitation, "We ask you to Ride," a Doors-like jam that channels the solemn and cryptic vocals of Jim Morrison. And I'm talking about taking-peyote-in-the-desert Morrison, not the fat and staggering hollow shell he eventually became.
Laid back in fine West Coast style, Wooden Shjips drench you with garage rock distortion and reverb, making every song seem like it could be included on one of those '60s Nuggets box sets. For those predisposed to participating in activities involving certain chemical enhancements, this band could become your new personal soundtrack, each selection providing a unique mind-bending adventure. Check out "Lucy's Ride," as they take you on space travels that would make the likes of Hawkwind envious.
Nothing on this record is done in aimless excess. Bass lines are rarely more than three or four notes, guitar solos are played with Neil Young-like precision and the drums are straightforward motor-driven exercises designed to steer the band from song to song. Even the keyboards are arranged with a careful consideration and reverence for the band's minimalist tone, especially evident in the Krautrock-inspired finale "Shine like Suns."
What separates Wooden Shjips from their contemporaries is their "less is more" approach to musicianship and songwriting. Wooden Shjips are not interested in blowing anyone away — instead they guide their listeners on a sonic journey of single-note rhythms, spiraling drones and acid-soaked fuzz. Perhaps the harshest criticism I can offer is that the journey seems too short, clocking in at about 33 minutes. I was somewhat disappointed that the Shjip had not sailed farther.
Michael Mannix is a masters' student in English at HSU.*