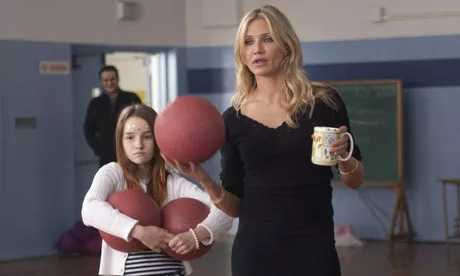 REVIEWS:
BAD TEACHER
Setting aside all those inspirational Stand and Deliver sort of films about teachers who come through when the need is greatest and the student beneficiaries of that idealism, Bad Teacher tries to do for the profession what Bad Santa did for Christmas. Unfortunately, while I called Billy Bob's delightfully nasty take on our beloved, over-weight icon in a red suit and white beard my favorite Christmas film ever, I cannot say the same about whatever genre Bad Teacher represents.
Nonetheless, the film is consistently entertaining and reasonably funny. Furthermore, it is easily the best role Cameron Diaz has had for some time (think Knight and Day or What Happens in Vegas as more recently typical of her film choices). Diaz wonderfully impersonates a self-centered person with a "rocking hot body" who wears short skirts and various form-fitting outfits and who has somehow devolved into being a teacher.
We first meet her character, Elizabeth Halsey, as she is leaving her job as a 7th grade teacher in Illinois, believing she is about to marry a wealthy guy. When the guy's mother scotches that fantasy, she finds herself back at the same school the following year whereupon she proceeds to spend class time showing DVDs, insulting everyone in sight and rejecting the advances of gym teacher Russell Gettis (Jason Segel).
But when new teacher Scott Delacorte (Justin Timberlake) arrives, Elizabeth goes on the hunt when she discovers he's got family money. Unluckily, Scott has eyes for obnoxiously perky, and busty, teacher Amy Squirrel (funny British actress Lucy Punch, You Will Meet a Tall Dark Stranger). The two go to war, and the rest of the film is more-or-less the fallout from their rivalry.
Elizabeth has few boundaries: she steals the student's car wash money to help finance a boob job, bounces basketballs off the heads of her students as a learning device, and gives her black bra to a student whose image needs burnishing. But in the end, it's all good fun. The film never reaches the dark depths that Bad Santa attained, perhaps because Diaz only wished to push her inner ogre so far.
The cast as a whole perfectly captures the various stereotypes the comedy exploits. Timberlake must have had fun putting aside his bad boy image to play the milquetoast Scott, and he gets to sing badly a ridiculous song called "Simpatico" (that he also wrote) as part of a teacher band named The Fifth Period. I've certainly spent far worse days in movie theatres recently. Rated R, presumably for bad language and behavior. 89m. At the Broadway, Mill Creek, Minor and Fortuna.
PREVIEWS:
TRANSFORMERS: DARK OF THE MOON. The third Michael Bay-directed Transformers film sees Shia LaBeouf return as Sam Witwicky, but lacks a certain Megan Fox quality. (Note: don't call your director Hitler.) There's a plot somewhere, hmm… oh, here. When a mysterious event from Earth's past erupts into the present day it threatens to bring a war to Earth so big that the Transformers alone will not be able to save us. So, there. Rated PG-13 for intense sci-fi-ness. 154m. At the Broadway, Fortuna, the Minor and Mill Creek.
LARRY CROWNE. Tom Hanks stars as a superstar team leader at the big-box company who is downsized. Bummer. He returns to college and develops a crush on his speech teacher played by the totally crushable Julia Roberts. Rated PG-13 for adult situations. 99m. At the Broadway, Fortuna, the Minor and Mill Creek.
MONTE CARLO. Starring Disney University graduate Selena Gomez, three graduates fulfill their dreams of vacationing in Paris, live like royalty and experience romance. But at the end of their journey, they discover the true magic of friendship. This film was not screened for critics. Rated PG for mild stuff. 109m. At the Broadway.
SCI-FI PINT 'N' PIZZA NIGHT. Things could get hairy Wednesday Night at the ATL with two werewolf films set to take a bite out of your brain. The first is The Werewolf of Washington (1973), a horror comedy film written and directed by Milton Moses Ginsberg and starring Dean Stockwell. about a White House press secretary who turns into a deadly beast by night, terrorizing Washington D.C. and presenting a very deadly threat to the President. The second, Werewolf of London (1935) was the first Hollywood mainstream werewolf movie.
CONTINUING:
BRIDESMAIDS. A lovelorn maid-of-honor navigates her way through wedding weirdness with hilarious results. Rated R. 125m. At the Broadway.
CARS 2. Twice the CGI carbon monoxide! Rated G. 112m. At the Broadway, Fortuna and Mill Creek.
GREEN LANTERN. Even by superhero-movie standards, this one sucks. Rated PG-13. 114m. At the Broadway and Mill Creek.
THE HANGOVER 2. Like the first one, but more Thai. Rated R. 102m. At Garberville.
MR. POPPER'S PENGUINS. Charlie chose to go see The Green Lantern over this movie. 'Nuff said. Rated PG. 97m. At the Broadway and Mill Creek.
PIRATES OF THE CARIBBEAN: ON STRANGER TIDES. Disney plants another money tree. Rated PG-13. 137m. At the Broadway.
SUPER 8. Strange disappearances in a small Ohio town have citizens baffled. Rated PG-13. 112m. At the Broadway.
X-MEN: FIRST CLASS. The origin story: Mutants trigger, then resolve, the Cuban missile crisis. Who knew? Rated PG-13. 132m. At the Broadway.