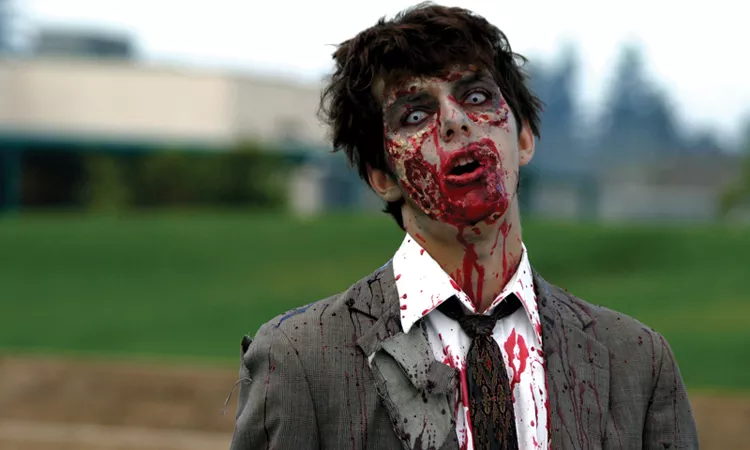 The new season of The Walking Dead has arrived, so it's time to love zombies again. And, in fact, there is more undead activity in HumCo than you might suspect.
We got a call from zombie Angelique Perrott who was a little worried that there could be impending community confusion. It seems that while she was out making the rounds to promote the zombie walk she's been arranging for several years, she came across a flyer at Halloween City for a separate event that shared the same name -- "Zombie Walk," appropriately -- on a different date. D'oh! So, she changed her's -- March of the Undead was unborn.
But who's this other brain connoisseur? The Journal called zombie organizer Joshua Scharfenberg, who said he's been among the walking dead for three years now. He noted that Perrott had stopped into Halloween City -- where he works -- and that he'd proposed combining the undead hordes. But both dates were set. No hard feelings. Thus, dual zombie walks.
Whether you think more zombies wandering the streets is a good thing -- or not -- will determine how you interpret this turn of events. We at the Journal have always supported diversity, healthy growth and picking people's brains. So this is a good thing. Here are the places to congregate if you enjoy awkward gaits:
The 2012 March of the Undead will take place on Tuesday, Oct. 30. Your lifeless body should be at the foot of C Street in Eureka by 5:45 p.m. so that you can wreak good-natured havoc through the streets of Old Town starting at 6 p.m. Brains!
The Zombie Walk to Arts Alive will be held on Saturday, Nov. 3. Drag your corpse to the parking lot of Halloween City (near Jack in the Box) on Broadway around 4 p.m. There will be makeup booths -- to make sure your cheeks have that gray glow -- music by DJ Touch and a zombie shooting range in some dude's trailer (you've seen it). The march to Old Town begins at 5 p.m. More brains!
Consider yourself informed/warned.