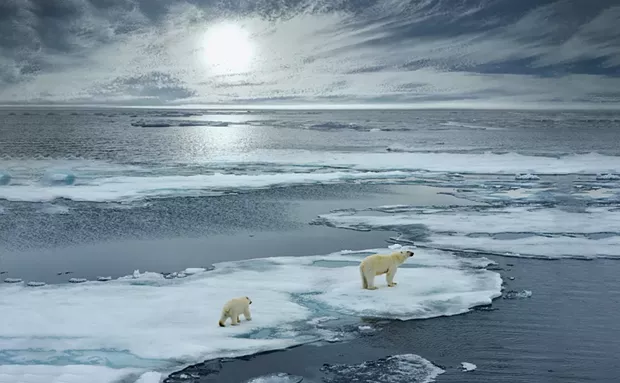 I don't consider myself an activist. I am way too hypocritical for that. I don't often participate in direct actions. I don't like the earnestness, the black-and-white rhetoric, the us-vs.-them polemics or the chest-pounding spectacle of moral superiority. I'm not convinced the effort results in much change, anyway.
I'm an academic and my research on the environmental movement over the past 20 years could never have been considered "activist." Advocacy, yes — for new ways of thinking about the environment and how we should think about the world. But a march? No, thank you.
To boot, I really don't like high-schoolers. Nothing against any of them individually but high school was not a good time in my own life, and even seeing a high school campus triggers me.
So how did I end up as a speaker for the small but brave group of Eureka High School students for the Youth Climate Strike on March 15?
Though Arcata's Youth Strike inspired a larger turnout, I am strangely awed by the smaller group in Eureka. It takes a lot of courage to be part of a small group, even more to be just one person. Greta Thunberg, the 16-year-old Swedish activist whose own Fridays for the Future strikes launched the global Youth Strike for the Climate, was only one person once. What a strike like the one on March 15 does is turns one person into 30 people, into tens of thousands of people, into 1.4 million youth walking out of school on one day, right before your eyes, in the flesh and across the planet. If they can be so brave and organized at 15, imagine what they can do for the climate in the next 10 years?
The strike counteracted all the ways that capitalism would have us think of ourselves as individuals: operating in our bubbles, tiny nobodies with no power to do anything against the monstrous beast of climate change and the powers that accelerate it. "Showing up" is not my thing. But showing up at the strike because I couldn't see the gray area in the issue of young people freaking out about the planet they are inheriting showed me that showing up sends a surge of energy through everyone around you. It's also a symbol of what's to come.
Energy and symbols may not be change, but they are needed for change to happen.
Still, I'm not likely to show up to many marches. But on occasion, if I can in a small way encourage youth about climate change, I will feel compelled to. Maybe it's the urgency of the situation, maybe it's the 99 percent scientific consensus, maybe I'm getting older and feel like I have less time to nit-pick over gray areas, maybe it's having kids, maybe it's the Facebook algorithms. But, against all my academic instincts to be critical of all causes, I am fully committed to this one.
I'm starting to understand that a march can offer a crucial ingredient for social change. Knowing you are not alone in your frustrations and fears creates a kind of awareness of collectivity that I've begun to research. It turns out that this "infrastructure" of collective solidarity is as important as the concrete infrastructure of dikes and roads. For repairing communities in the wake of climate disruption, researchers are showing that $1 spent on cultivating community resilience is more valuable than $1 spent on infrastructure, such as new buildings. Collective resilience is the infrastructure we need to prepare for global warming.
Perhaps it was cynical but I was expecting the high schoolers to use the strike as an opportunity to ditch class and bury their heads even further into the distraction of social media. Instead, they were passionately engaged in the fate of the planet. They courageously stood up to their parents and critics, who complained that these problems should be worked out in the classroom. The kids who strike for the future say that the classroom isn't doing enough and it will be too late when those solutions come to pass. My college students feel the same way. It's hard to sit still at a desk when it feels like the school is on fire. Young people are the frontlines of climate disruption. They will be experiencing the problems first-hand, not just as a future abstraction, like my generation has the luxury to do. As the 2018 Intergovernmental Program on Climate Change report revealed, with its estimate of a 12-year deadline to avoid environmental catastrophe, their sense of urgency is justified.
The high school students from Arcata and Eureka who have the courage to face climate change, to desire their futures and stand up to their parents should not be dismissed as naïve. They deserve support and admiration. They are the change that is coming.
Sarah Ray leads and teaches in the environmental studies program at Humboldt State University. Her book An Existential Toolkit for the Climate Generation will be out next spring from University of California Press.