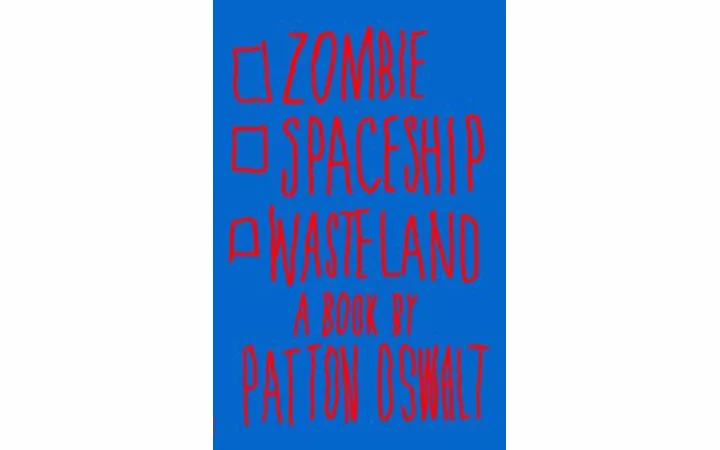 By Patton Oswalt - Scribner
Zombie Spaceship Wasteland
It's a commonplace for comedians, actors and other celebrities to release hastily lashed together books that are little more than self-aggrandizing tributes to, in the words of Bill Hicks, their own fevered egos.
Comedian Patton Oswalt's new book is not one of those. It is not a tie-in to some other media product. It contains no lame transcriptions of stand-up routines, or even any celebrity dirt (unless a hilarious description of an obnoxious MTV gifting suite is considered such). Because he has a keen regard for the written word, the book is clearly conceived for the page (though I bet his audio book version of it would be pretty good too).
Oswalt is as sharp and funny a writer as he is a stand-up, and the better part of Zombie Spaceship Wasteland pokes beneath his smart-ass nerd hilarity to trace the roots of his idiosyncratic brand of humor. Though it does include a few straight-up humor pieces, the bulk of the book is autobiographical: memoirs of his childhood, closely observed vignettes of family members, and tales of his early days paying dues as a stand-up on the road (and he really did pay some dues).
He reveals a jumble of childhood literary influences: Daniel Pinkwater and Beverly Cleary share influence with Harlan Ellison, H.P. Lovecraft and Richard Brautigan, a volatile mix for which he gives thanks to the benign neglect of his parents and the "legion of lazy copywriters." Oswalt reminds us that in today's onslaught of readily available infotainment, it's easy to forget that once upon a time the cool stuff was not so easily to be had, especially if one resided in the stultifying confines of suburbia. In "Ticket Booth", he tells the story of his teenage job at a multiplex and how the intertwining inputs of Philip K. Dick's Man in the High Castle and REM's Fables of the Reconstruction acted as a life raft to some better, wider future.
Two pieces deal explicitly with the world of the stand-up comedian: "The Victory Tour" is the hellish tale of his residency at a Canadian comedy club, and is must reading for anyone who mistakenly thinks that comedians live a glamorous life. In "A History of America from 1988 to 1996," he methodically demolishes hack comedians as they change their act to suit whatever clichés are in vogue at the moment. It's a funny incantation against all that Oswalt himself finds cheap, shoddy and predictable in comedy.
The autobiographical parts of the book are so well observed that the humor pieces suffer a bit in comparison. That's a small complaint. Zombie Spaceship Wasteland is too good to be merely relegated to the comedian-writes-a-book category.