For an event that members of Humboldt Kiters didn't start planning until three months ago, the Redwood Coast Kite Festival in Eureka on Saturday, May 21 turned out to be an artistic display of kiting and kite creation. It was also a whole lot of fun for those who attended on the first day of the two-day festival. Event planners also had a bit of weather luck on Saturday, given that the high winds of Thursday and Friday had subsided to almost perfect kite-flying conditions under sunny skies.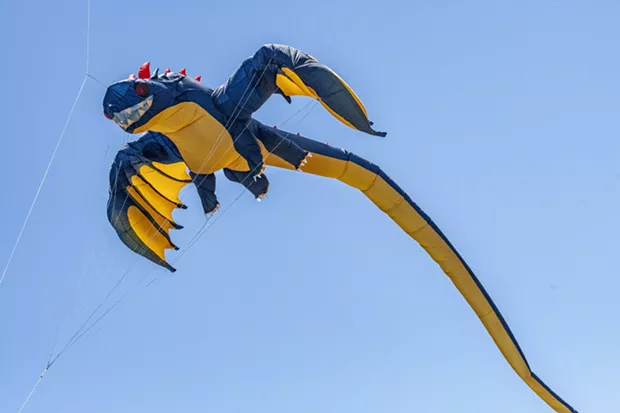 Photo by Mark Larson
This large inflatable dragon kite was flown east of the Samoa Bridge by Darril Dela Torre, of Berkeley, a kite-flying enthusiast and member of the American Kiteflyers Association.
Local members of Humboldt Kiters revived the Kite Festival in Halvorsen Park along Humboldt Bay this year decades after it had been moved to Oregon in the 1990s. Group members who regularly fly kites at Halvorsen Park and elsewhere locally had quickly organized a team effort among local sponsors, the Ink People Center for the Arts and local artisans who sold kites and other offerings in vendor tents at the event.
"I loved the way everything came together," said Humboldt Kiters member Paul "Kite King" Woodard, of Eureka, on Saturday as he roamed the park helping kite flyers get airborne. "It's amazing to see the turn-out, the support from the sponsors, donors of T-shirts, vendors, musicians and all the kites. We definitely plan to do it again next year."


19 slides
Adults and children roamed the community-flying area with their own kites, some of which they had just made in a children's kite-making workshop. Others wandered east under the Samoa Bridge to watch demonstrations of large inflatable and other types of kites (all dependent on the varying wind speeds at any given moment). At one point, the sky was filled with fish and a huge octopus, as well as a couple dragons. Live music accompanied the event and children also enjoyed a couple of candy drops carried aloft by a huge airfoil kite. Visit the Humboldt Kiters website for details on where you can see Kites as Art installations by artists and galleries associated with the Ink People.