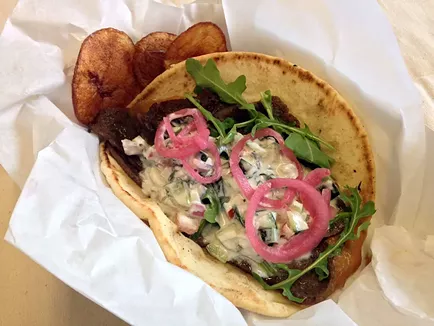 Jennifer Fumiko Cahill
You don't eat meat? It's OK, we'll have gyros.
I am told by a reliable Greek co-worker that everything is Greek.
Everything
. And yet when I swung into the office with a paper bag from Humboldt Soup Company (1019 Myrtle Ave., Eureka), there was some panic — from the Greek
Panikos,
incidentally — as to whether its gyro ($8.29) would be Greek enough.
The meat is key here. There are those of us who look at gyro meat or shawarma — the glistening, rotating column of the Mediterranean/Middle-East's answer to sausage — and recoil. Others among us dream of having a similar set-up beside the couch and shearing off strips of greasy goodness as John Stamos flickers on TV. This gyro is stuffed with beef and lamb shawarma that's soft and spicy, somewhere between sausage and meatball, but not overly salty. It's not exactly the same as the stuff they're slicing off the turning spit in the old country (or in Queens, for that matter) but it's savory and makes the cut.
The pita is legit — warm, soft and grilled — and unlike the usual foil-wrapped, dripping behemoth, the whole thing is pretty. Well, not anger-Hera-and-turn-you-into-the-snake-headed-Medusa pretty, but fancy enough to justify the price. The circles of pink pickled onion are tart and bright against the earthy meat and the tzatziki sauce is lightly garlicky and creamy with cubes of cucumber and tomato. Some fancy lettuce and a dark and nutty tahini spread that adds sweet smokiness are enough to make you forget about all that Greek austerity. Just don't get carried away and throw your plate. It's cardboard and that's not festive, it's littering.