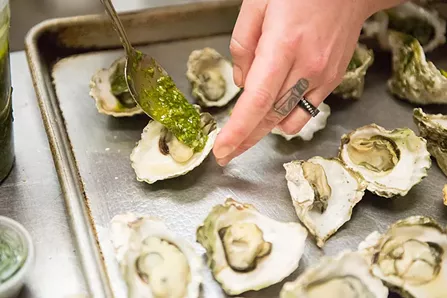 Mark McKenna
Lizette Acuna spoons an Argentinan Chimichurri on a grilled oyster.
Too many cooks in the kitchen? It didn't look like it on Monday night at the Equinox in Old Town fundraiser dinner. The Humboldt County Office of Education event served up seven courses by a team of neighborhood chefs including coordinator Josh Wiley of Restaurant Five Eleven, where the dinner took place, Liz Acuna of Ramone's Cafe on Harrison, Erik Masaki of Masaki's Kyoto Japanese Restaurant, Raphael Pumphrey of Cafe Nooner, Graham Miller of Mazzotti's and Daniel Dagorret of Restaurant 301.
The team laid out a feast for diners who shelled out $100 each to raise a total of $4,200 for HCOE's Nutrition Programs and Services, which covers school meals, training and bringing local beef and produce into schools. Photographer Mark McKenna was there shooting (and likely sampling) from the appetizers to the dessert. Get a taste from the slideshow below.
23 slides