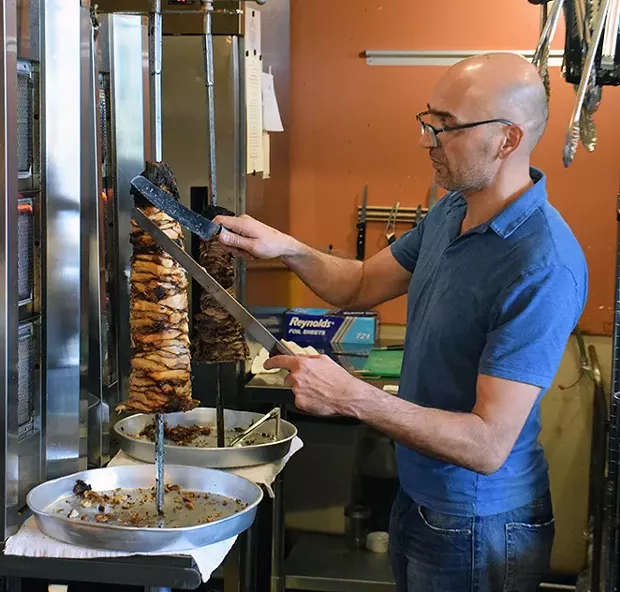 Photo by Thad Greenson
Salhi carving shawarma during lunch.
Before you go into full panic, the artichoke cheesecake is still on the menu. Plenty else, however, has changed. On Nov. 26, 2017, Reda Salhi took over the kitchen at Arcata institution Folie Douce (though escrow has yet to close), shifting its menu toward Lebanese specialties like shawarma and kofta, while keeping a handful of the classic farm-to-table dishes that have earned it a following.
Chris Hollan, who started out as a baker and doing prep before taking over Folie Douce six years ago, said back in October, "I've been there 24 years … and I'd love to see the place continue to succeed." With her daughter graduating college and a landscaping business on the side, she said she was "just ready for the next phase of my life."
Salhi, who was working as a clinical case manager at New York-Presbyterian Hospital when he began hunting for a business in Arcata, was looking for a change, too. His daughter was starting her first year at Humboldt State University and he asked her to do some recon dining at Folie Douce. He says she immediately told him, "This is the place." In a month he'd moved to town and contacted a broker.
Folie Douce isn't Salhi's first foray into the restaurant business. Originally from Algeria, he said he spent three years in Italy learning to make pizza and pasta before immigrating to Quito, Ecuador, to open an Italian restaurant. But the restaurant was flailing so, after determining there was no Lebanese food locally, he changed course, diving into cookbooks to learn to make basic dishes like hummus and falafel, with which he had no familiarity. Some 2,000 miles across the Mediterranean, the more meat-focused cuisine of Algeria is, he said, "completely different."
Photo by Thad Greenson
Reda Salhi at the Folie Douce oven, which now turns out pizzas and pita.
Salhi said one of his early customers balked at his attempt at hummus, declaring, "I'm from Israel and this is not hummus." Salhi laughed and responded, "This is Algerian hummus," and then sat down to learn about how Israelis prepare the dish. "I was lucky," he said, to also find Syrian chef who knew Lebanese cuisine.
Surveying the scene in Arcata, Salhi said he saw the same lack of Lebanese and Turkish food, figuring he could make a go of it with an affordable lunch and dinner spot. Folie Douce will still turn out pizzas but its oven is equally well suited to pita bread for the fattoush salad and baba ghanoush. Salhi is also keeping the old menu's filet mignon, scallops and aforementioned artichoke cheesecake on the menu alongside the kafta kebabs and falafel sandwiches. A Moroccan sandwich showing some French colonial history is on offer, too: a baguette stuffed with merguez sausage, hot sauce and French fries, but with his own aioli harissa.
As for the reaction to the changes so far, "There is some resistance, of course, I would say from older folks," said Salhi, "but I'm interested in young folks."
With so many Humboldt State University students coming from more culinarily diverse cities, it might not be a bad strategy.