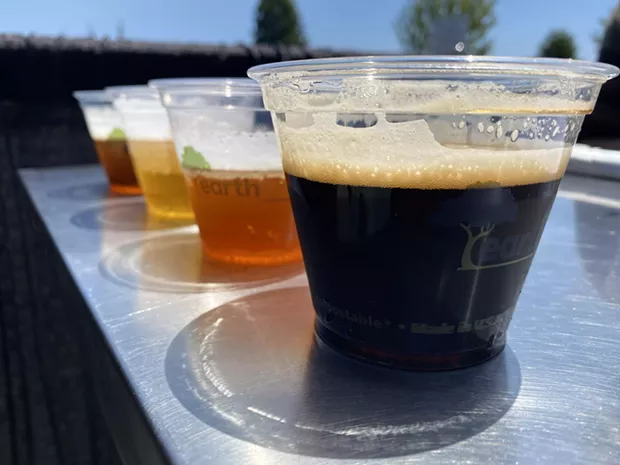 Ashley Harrell
A flight of Powers Creek craft beer served outside of the Blue Lake Casino, including an Irish-style dry stout, a Scottish-style export ale, a blonde session ale and a double IPA.
Where a casino's doors have (temporarily) closed, a new craft brewery has opened.
Housed within the Blue Lake Casino —
which recently shut down for the second time due to the pandemic
— Powers Creek Brewery, which remains open, has started serving craft beer in the outdoor seating area for Alice's restaurant. Owned by the Blue Lake Rancheria Tribe, it's the second tribe-owned brewery in our county along with
Mad River Brewing
, which is owned by the Yurok Tribe, and one of only five nationally.
There are six beers in all: a nutty Scottish-style ale, a refreshing blonde ale, a classic pale ale, a hoppy India pale ale, a rich double IPA and (our personal favorite) an Irish-style dry stout with a chocolatey finish. A flight comes with four tastes and costs $9. For the full Powers Creek experience, order the St. Louis-style pork ribs, which are grilled and finished with an Irish-style dry stout BBQ sauce.
The brains behind the beer is local legend Dylan Schatz, whom the Blue Lake Rancheria Tribe tapped shortly after the brewmaster's departure from his long-standing post at Mad River Brewing Co.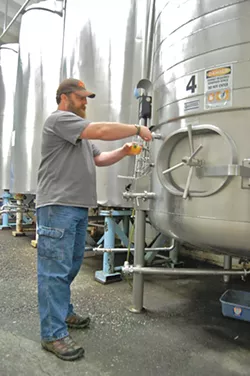 photo by Andrew Goff
Dylan Schatz handles some "quality control."
According to Schatz's bio on the
brewery's Facebook page
, he started at Mad River Brewing Co. in February of 1999 in packing operations. By May of 2000 he had become a brewer, eight years later he was named the head brewer and in 2010 he became a brewmaster and production manager. In the spring of 2019 Schatz parted ways with MRB, according to the bio, which freed him up to start a new nano brewery within the casino.
"This experience was a realization of his ultimate dream job, being able to build out a brewing space from scratch and now having creative freedom to brew the best original recipe beers he can imagine, embracing traditional world styles," the bio states.
A promo video created for the brewery features Schatz and delves further into his vision for the project.
"The creative process is what really drives me," Shatz says. "Most breweries, they're production focused, so they have a set portfolio of styles that they do and that's what they do all the time. ... We're going to have something different all the time."
Using a one-barrel brewhouse and two-barrel jacketed fermenter, Schatz says he expects to be concocting pale ales and IPAs regularly, as those tend to be the most popular. But he also plans to brew some lagers and hybrid styles and to "roll with the seasons," creating lighter booze in the summer and darker, heavier brewskies in the winter. "We'll pull in some different fruit and spiced beers, things like that," he says.
Initially the beer will only be available in the casino's restaurants (and its Wave Lounge when that reopens) but the brewery plans to begin growler service in August. Still further down the road, the project will get its own beer garden: "a family-friendly type area, with a brew pub set-up." By that time, Schatz predicts that the operation will have expanded in capacity to the point where it could even distribute beer to other casinos throughout the state.
Mainly, Schatz is just excited to be building something from the ground up, he says. "It's a lot of fun to be able to put it all together and get it up and running."