Things were damp in Arcata's Redwood Park on April 20, the unofficial holiday also known as 4/20. The park's grassy meadow was surrounded by caution tape. Police on the scene said a crew had spread fertilizer earlier in the day and no one was allowed to cross the field. Arcata Police Chief Tom Chapman was happy to see the rainy weather put a damper on the 4/20 4:20 party. If there was a crowd there to smoke, they were hidden deep in the woods.
The board of the Redwood ACLU issued a press release in advance of the gathering, complaining of "peculiar actions over the last couple of years by Arcata Police Department officers and other city staff." Specifically: The erection of roadblocks on public streets leading to Redwood Park, blocking of public trails through public parkland leading to Redwood Park and the shutdown of public parking lots and public restrooms. (The police did in fact take over the building that houses the restrooms; the public was not allowed near the building.)
"The over-reaction of the City of Arcata to what amounts to a low-impact, non-violent mass action to protest federal law is really uncalled for," the ACLU concluded.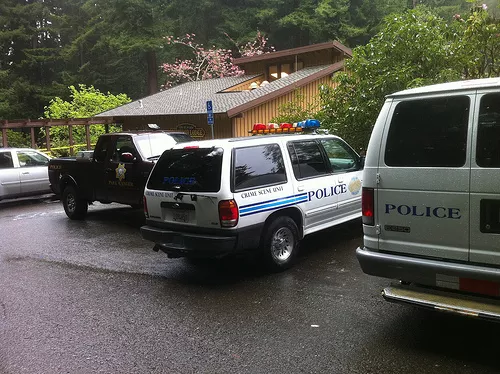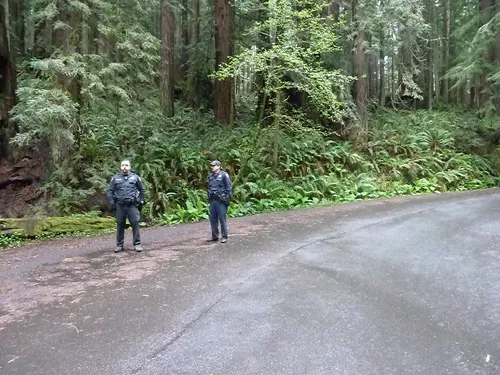 On the road into the park, two officers stopped those trying to walk up the hill, telling them the park was closed due to maintenance. One would-be reveler said repeatedly, "You chose a funny day to do maintenance." When he said it the third time, the officer turned hostile. "It's time for you all to leave," he demanded, and the reveler and his friends did just that, turned around and walked back down the hill.
When they were well out of site of the police they stopped and fired up the joints they'd come to smoke. "Head-band," said one gentleman. "The best," said another.