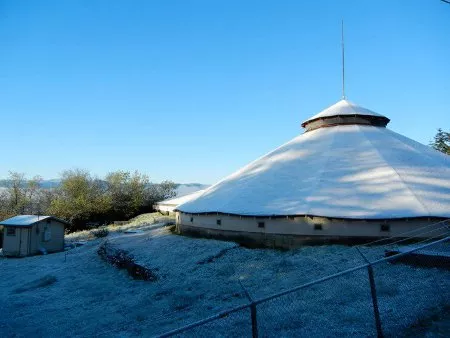 Residents of the pretty little hilltop dead end of Stewart Street, in Fortuna, are bracing themselves for a prolonged construction disruption: Preparations for the demolition of the two 500,000 gallon reservoirs on their street, to be followed by construction of a new, 2 million gallon tank on the site, may begin as soon as this Friday.
Stewart Street resident Steve Brackenbury -- a frequent contributor to the Journal's poetry page, btw -- said the city had told neighbors that they'd get a month's notice before demolition begins. However, a notice posted on the city of Fortuna's website Friday notes the schedule has been sped up in order for the work to be finished in the allotted construction period. Neighbors, who were told the news Saturday, can attend a meeting at 6 p.m. Wednesday in the council chambers to talk about the project.
The tanks' demise has been in the works for years, and there've been numerous public meetings. The project was part of a lengthy, multifaceted battle over where a new water tank should go, and whether a new tank was even needed.
First the city staff wanted to put the new tank in the city's forest, a second-growth redwood retreat in the city's lush Rohner Park. Dismayed residents wrestled that one down. So then the city said it could tear down the two old reservoirs on Stewart Street -- a leaking 100-year-old rectangular boringness, and an architecturally warm and pleasing 75-year-old conical one that makes one think that Jack in the Beanstalk has lost his hat. It's cute on the outside. It's pretty inside with its soaring wood latticework. It works.
The city reasons it needs new storage to replace the leaking rectangular tank and to meet the fire suppression and build-out needs of Fortuna. At least one citizen -- thorn-in-the-city's-side Janelle Egger (who famously sued the city for public records, ran for city council and lost, and these days has been seen hanging out with Occupy Eureka in front of the Courthouse) -- says another tank, the 5 MG tank on Vancil, plus the conical tank should more than cover the city's needs.
The city's engineers won that one. So now: the pending death of the conical wonder on Stewart Street, and its replacement with one of those functional -- but, at least, lower-profile -- modern flattops, the conceptual site of which prompted Brackenbury to note:
"...with so much of the urban architecture of the 20th century, there is little imagination but a lot of uninspired, easy to build, soul-killing edifices being built. We moved from the Bay Area three years ago and picked this spot, specifically because it was so beautiful."