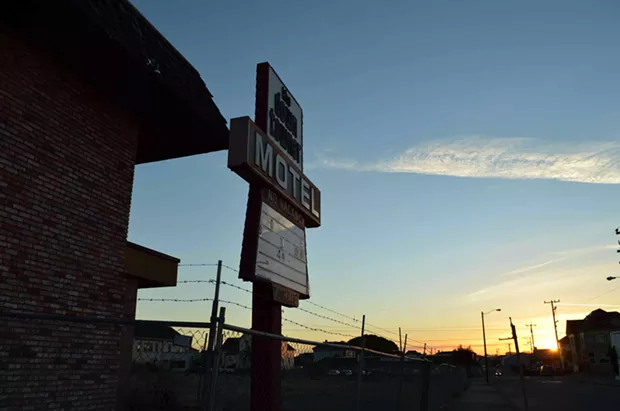 Eureka received a $3.8 million grant from the state to develop Danco's Lodge at Eureka on the site of the derelict
Downtowner Motel
.
Residents have long grumbled about the property, and last year became a contentious political point when 4th District Supervisor Virginia Bass, who was running for re-election, appointed Downtowner owner Kevin McKenny to the county planning commission.
Danco Communities, which is planning to build affordable senior housing on the site, is in escrow with McKenny. The city will loan Danco the $3.8 million community development funding, and the rest of the $8 million project will be funded through tax credits and private financing.
From the city's March
newsletter:
The City of Eureka is pleased to announce a $3.8 million grant award from the State of California Housing and Community Development (HCD) HOME Investment Partnerships Program funds for the development of "The Lodge at Eureka", an affordable multi-family senior rental housing new construction project to be constructed at 424 8th Street in Eureka at the site of the former "Downtowner Motel". This project is being developed by Danco Communities for a total cost of $8.06 million, and will be financed with 4% tax credits, public, and private financing. This development will assist the city in meeting the goals of providing 49 affordable housing units and one manager's market rate unit within the city limits of Eureka. The purchase and sales agreement between the current property owner, Kevin McKenny and Danco Communities is currently in escrow.

The construction of the "The Lodge at Eureka" will convert a vacant 80 unit, two story, two building abandoned motel into a 49 unit affordable rental housing project serving seniors (age 55 and over) with household incomes between 35-60 percent of Humboldt

County's Area Median Income (AMI), or less than $24,180 maximum gross annual income for a household of one. Rents will range from $312 for a studio to $709 for a two bedroom unit. The facility will consist of 15 units to be restricted to 60% of AMI, 22 units will be restricted to 50% of AMI, 8 units will be restricted to 45% of AMI, and 4 units will be restricted to 35% of AMI. The 50th unit is a larger, three bedroom on-site manager's unit.

The project will consist of 8 studios, 36 one-bedroom units, 5 two-bedroom units, and 1 three-bedroom manager's unit. Unit amenities include dishwasher, disposal, refrigerator, range, and laundry hook-ups. The project site is located near the historic downtown section of Eureka, with a medical facility, public transportation, pharmacy, and a senior center within one-tenth of a mile. Shopping and other services are available within one-quarter to one-half mile of the project.

This project is to consist of a combination of demolition, new construction, and rehabilitation to construct two buildings (with an addition to the smaller of the buildings), in addition to a new building that connects the two buildings together. The development will consist of an elevator, laundry room, community room, community kitchen, fitness room, picnic-BBQ area, pool, and Jacuzzi. The facility will also include storage space, a service area, and leasing office space. Parking spaces will be at 57, with four handicapped spaces.

Ongoing discussions for the provision of potential on-site services will continue and interested service providers are encouraged to contact Danco properties. The Area 1 Agency on Aging and the Humboldt Senior Resource Center, as well as other local service providers, have offered services.

project will require Federal Prevailing Wage compliance. A Marketing Study was performed by M.E. Shay & Company in June 2014. The Environment Assessment is currently being prepared by Streamline Planning in Arcata in preparation for the execution of the Standard Agreement anticipated in July 2015.

The project was taken before the City's Design Review Committee on June 17, 2014, for Site Plan, Architectural Review, and Sign Permit, and was approved with conditions. The City will be able to draw down funds when the State's Standard Agreement is fully executed and all special conditions have been cleared in writing by HCD. The City will then proceed with the implementation and execution of the loan documents between Danco and the City of Eureka.

The anticipated start of construction is late summer with construction to take approximately one year, with the final occupancy permits tentatively available in mid to late 2016. City staff will be working with the project applicant in the coming months as full construction documents are developed and submitted for review. The aggressive project schedule will require close coordination to ensure required permits are issued in a timely manner.