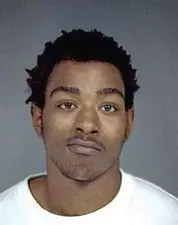 A Humboldt County Superior Court judge sentenced Limmie Greg Curry III, 24, to serve 12 years in prison for the 2010 killing of William "Billie" Reed on a remote property off State Route 299, east of Blue Lake.
On the eve of a second murder trial in the case, Curry pleaded guilty to a charge of voluntary manslaughter and the 12-year sentence was the maximum allowable under the law, and included a one-year firearm enhancement. But Curry has been in custody since shortly after the February 2010 killing, and consequently has only about five years remaining on his sentence to serve in state prison (with good conduct, he'll only serve 85 percent of his sentence).
Prosecutors alleged that Curry and another man, Eddie Lee, shot and killed Reed on Feb. 3, 2010 before burning and hiding his remains in an effort to take over Reed's home, belongings and a marijuana growing operation on the property. Officials ultimately found Reed's charred skeletal remains in several burial sites on the property, including one in a garden site where Reed had allegedly grown marijuana the year previous summer. Curry and Lee were arrested shortly after the killing, but were tried separately on murder charges.
During Curry's first trial, which was prosecuted by former District Attorney Paul Gallegos, his defense attorney argued that it was Lee who killed Reed and spent thousands of dollars of the dead man's money in the following days, ultimately hosting a Super Bowl party at Reed's house about a week later. The jury deadlocked in the case, 7-5 in favor of acquittal, with jurors saying they found key witnesses in the case — specifically Lee and Curry's girlfriends — to be untrustworthy and that the prosecution had been ineffective.
Lee's case then went to trial last fall, and his defense pointed the finger at Curry, saying that he'd killed Reed — Lee's good friend — in an effort to "come up" and take over his life, then threatened Lee to keep quite. Shortly before the case was to go to the jury, Lee's attorney — Darryl Stallworth — took the rare step of making a motion to dismiss the case, arguing that Gallegos had failed to present enough evidence to even warrant jury deliberations in the case. Judge John Feeney agreed.
In an interview with the
Times-Standard
, Deputy District Attorney Kelly Neel referred to Curry's plea deal as a "compromise," but indicated it was necessary because a witness had destroyed evidence in the case and prosecutors were unable to locate Lee's former girlfriend — Moriah Foster — who had previously testified that Curry admitted to her that he'd killed Reed.
See a press release from the district attorney's office below:
PRESS RELEASE

Limmie Curry was sentenced today in Department Four of Humboldt Superior Court on charges stemming from the death of William Reid in February 2010. Present for the sentencing was William Reid's sister, Marilyn Reid who came from New York to participate in the sentencing hearing.

During late 2009 through early 2010, Eddie Lee and his girlfriend lived with Mr. Reid on his property off of Three Creeks Road. Mr. Lee introduced the victim to Limmie Curry during the first week of February 2010. Following that meeting, Mr. Reid's family did not hear from the victim again. After the Humboldt County Sheriff's Department located Mr. Reid's remains buried in multiple graves around the property, both Lee and Curry were charged with the murder of Mr. Reid.

Each defendant maintained the other was responsible for the death. In the two weeks after the homicide Lee spent thousands of dollars purchasing items such as a large screen TV which was brought to Reid's home where Lee and Curry had a Super Bowl Party. Curry, during a call to his mother just hours after Reid's death, told his mother he had just acquired property in Blue Lake, CA.

Lee was acquitted of all charges in the fall of 2014. At a separate trial for Curry, the jury deadlocked and was unable to reach a verdict on the murder charge. Curry ultimately pled guilty to voluntary manslaughter and being armed with a weapon in the commission of that offense and agreed to serve the maximum penalty of 12 years. That sentence was imposed today in court and must be served at 85% prior to being paroled. This constitutes a felony strike offense.

Marilyn Reid read two statements before Judge Cissna at the sentencing hearing this afternoon. The first from Mr. Reid's niece describing Reid's loving connection to her and the impact his untimely death had on her and her family. Ms. Reid then read her statement to the Court describing the pain and anguish her family has endured, not only due to the untimely death of William Reid, but because of what happened after his death. It is believed that Curry and Lee put Reid's body on a burn pile located on the property after he was shot to death.

The case was prosecuted by Deputy District Attorney Kelly Neel and the defense attorney was Casey Russo.