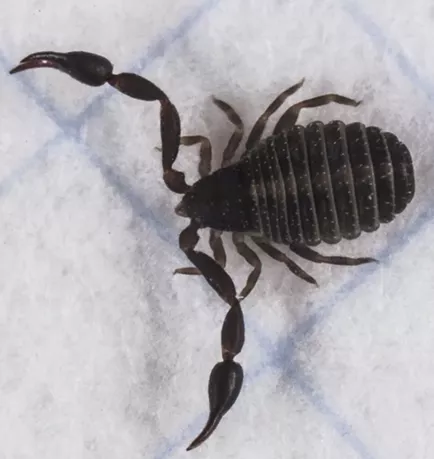 Anthony Westkamper
Pseudoscorpion on 1/8-inch ruled graph paper.
A little over 20 years ago, after moving to the country, I noticed a tiny, dark critter, no bigger than a newsprint letter "o" scurry across my counter. I scooped it up and checked it out with a hand lens. It was an animal I had only read about, a book scorpion or pseudoscorpion. After looking a bit I let it go outside. I've been on the lookout for them ever since.
When I got my new "super macro" lens, I went around snapping pictures of every little thing. When I downloaded some images of a tiny spider, I saw it was in the process of eating one of the strange little beasts. It made for a couple of dramatic and interesting photos but what I really wanted was the pseudoscorpion itself.
Anthony Westkamper
Running crab spider devouring pseudoscorpion.
The other night at the light trap I noted a tiny dot on the old bedsheet I use as a reflective backdrop. I was surprised to see one of the tiny creatures. This time I took a lot of photos, captured it and took some more before letting it go.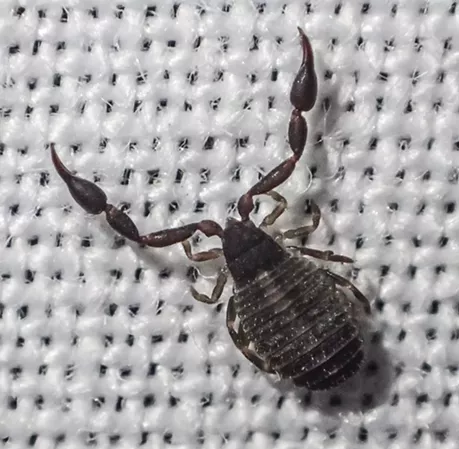 Anthony Westkamper
Pseudoscorpion on the white sheet of my light trap. The weave should give you an idea how small they are.
I don't think it was attracted to the lights. They are active hunters so I think it was just exploring.
While they are seldom seen, I suspect they're pretty common, feeding on tiny animals among leaf litter. Although they lack their larger cousin's tail and stinger, their claws (pedipalps) have tiny venomous bristles on their "thumbs," so the prey gets crushed, pierced and poisoned in one swift move. They pose zero threat to humans and are considered beneficial since they eat mites, carpet beetles, carpet moth larvae and just about anything else small enough for them to attack. Many species of these little arachnids are known to hitch rides on insects and even birds. I really like these little guys.