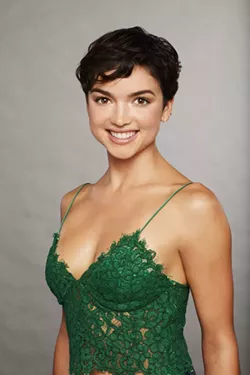 The Bachelor
Bekah Martinez
It turns out Rebekah Martinez is not missing at all. Quite the contrary, actually, she's on a popular nationally televised show:
The Bachelor
, which you might have heard of.
When posting
this week's cover story
to Facebook, we asked if any of our readers recognized any of the 35 people currently listed as missing from Humboldt County on the California Department of Justice's website. Astute readers said, yes, they definitely did and pointed to Martinez, who appears to be a burgeoning reality television star. (Hat tip to you, Amy Bonner O'Brien!)
After some googling returned some Instagram images that appeared very similar to Martinez's photo on the missing persons page, we reached out to the Humboldt County Sheriff's Office. That prompted an email from Public Information Officer Samantha Karges to the deputy who initially took Martinez's missing persons report, noting the similarity in images and asking if Martinez was still listed as missing.
Ten minutes later, the deputy emailed Karges back: "I just got off the phone with Rebekah. She is in fact the same person. She has been removed from (the Missing and Unidentified Persons Unit)."
Responding to some follow up questions, Karges told the
Journal
via email that Martinez was reported missing at 1:06 a.m. on Nov. 18 by her mother. "Martinez had reportedly come to Humboldt County to work on a marijuana farm. Her mother hadn't heard from her since Nov. 12, 2017," Karges wrote.
There's not a lot of information on the Attorney General's website. It just says Martinez was last seen Nov. 12, 2017, and the case is being investigated by the Humboldt County Sheriff's Office. It's interesting to note that Martinez has been active on
Instagram
throughout the time she was reported as missing. She posted Sept. 17 to tell followers she was "giving up" her phone and social media for several weeks, but she started posting again Nov. 23, some 11 days after she was apparently reported missing. It's also worth noting that there are lots of similarities between Martinez's
profile
on the Bachelor website, which went up Jan. 1, and her missing persons
report
on the AG's website.
The Attorney General's Office
Rebekah Martinez
So it appears Martinez is doing fine, and our
Humboldt 35
is down to 33. (We
reported yesterday
about a call we received from an avid
North Coast Journal
reader who was shocked to find his name on this week's cover.)
To see more of Martinez, tune into
The Bachelor
Mondays at 8 p.m. on ABC.
Editor's note: This story was updated from a previous version to include additional information. Find a full update to this story here.