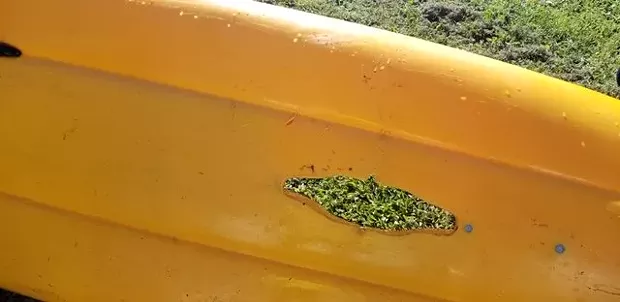 Shelter Cove Fire
The shark bite a hole in the side of the kayak.
This morning, a shark attacked a lone kayaker fishing in the waters off Southern Humboldt County.
According to Cheryl Antony, spokesperson for Shelter Cove Fire Department, at 7:45 a.m. an emergency dispatcher sent her department to look for a victim of a shark attack in a kayak.
Antony said that they were able to see the kayaker sinking in the water quite a ways offshore "by the buoy."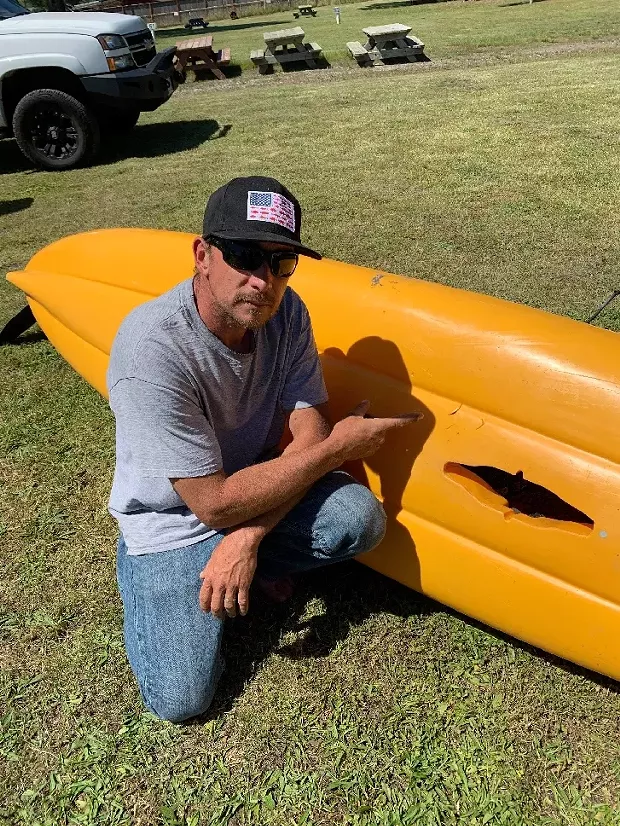 Michael Thallheimer, Jr. and the kayak that was bitten by the shark.
One of the department got on the radio and made contact with a nearby fisherman who rescued the man and his kayak.
Michael Thallheimer, Jr., 40, from Eureka, said he had taken his peddle kayak out about 6:15 a.m. and settled in to fish near the buoy.
"I had caught two small ling cod and then caught a large one about 36 inches or so," he explained. "I put it on my fish clip — I cut through the gills and it pumps all the blood out — as soon as I did that, it wasn't 30 seconds after, that [the shark] attacked."
Shelter Cove Fire
Fish blood smeared around the damaged rope that held the paddle.
One second, he said he was feeling good about his catch and the next … "boom!"
The shark bit a hole in the side of the kayak.
"All of a sudden, it was attached to the side of my kayak," Thalheimer said. He described a 16 to 18 foot long great white shark with jaws locked onto his boat.
"I saw a nose and an eyeball with no soul," he said. "That animal doesn't give a shit … [The shark bit] right in the middle of the kayak directly next to my knee and thigh, about 6 inches away."
Instinctively, Thalheimer said he struck back. "I slapped the thing as hard as I could on the end of its nose."
The shark instantly let go. "As it started to turn, it whipped its tail real hard and hit the kayak," he explained. "It gave me a good thump [but] it didn't damage the kayak. I think he was pretty scared. He turned and split as fast as it could."
Thalheimer said, with the kayak damaged and a shark in the water, he knew he had to get back to shore quickly.
"I was peddling with my feet when I realized my paddle was not there," he explained. He looked down and saw where the shark had bitten through the rope that held the paddle to the kayak. He circled back got his paddle and began heading as fast as he could toward the shore.
"I got maybe halfway back to the harbor [when] I could tell [the kayak] was filling up with water," he told us. "I called 911. I told them I was taking on water and possibly could flip over."
And, then, just what he feared would happen, did. While still on the phone with 911, a wave rolled the sinking vessel. "I flipped over and lost my phone," he explained.
Now he was in the water with the shark.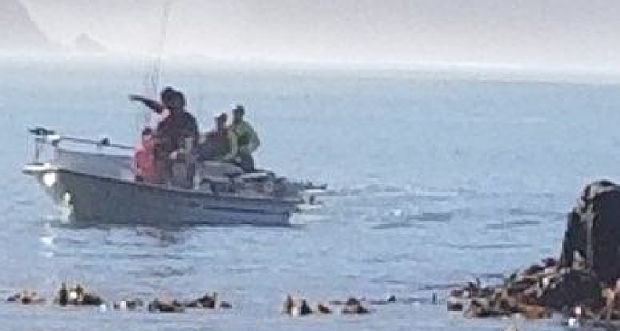 Shelter Cove Fire
A fisherman brought the kayaker to shore.
He managed to flip the kayak back over and scrambled in but again and again the damaged kayak rolled over
"Every time I would pull it right side up, it would flip over," he said. Eventually, he got on top of the bottom of the boat and held on there for awhile. "It was rolling around freely," he said. Eventually, he explained, "I got off and held onto the side of it…I was in the water maybe 15 minutes … It never left my mind the whole time that [the shark] might be going to come back. I had a freshly killed fish dangling around my feet because it was clipped to my kayak … I kept telling myself, 'Be calm. Panic is not going to do any good.'"
Thalheimer did have a radio clipped to his life vest and he could hear that rescuers were trying to reach him. "Thank, God, someone is coming," he thought. Over the radio, he learned the name of the local fisherman who had heard of his dilemma and was responding. "I kept saying, 'C'mon, Cody!"
Hanging on to the kayak and wondering if the shark would return was taking a toll on him. "I was definitely cold [but] I was more shook than anything," he explained. "I pretty much was uncontrollably shaking for half and hour or so [after the attack.]"
Thalheimer said he is both "relieved and bummering 'cause I lost my car keys and cellphone in the ocean…" And, he said, he had "remorse for going by myself and I knew better." But, he's glad to alive and grateful to those who rescued him.