Last night, a 26-year-old McKinleyville man fell 70 feet from the popular hiking spot, Top of the World, which is located off of Fickle Hill Road. Arcata Fire was called out about 11:20 p.m. Friday and they worked several hours to safely pack the man out of the area.
According to scanner reports, friends who were with the man called 911 and one met emergency personnel on the road in their vehicle with their lights flashing.
Arcata Fire's Battalion 8201 was able to make access down the very steep trail and requested a helicopter medical rescue but, because of weather, the helicopters did not attempt the rescue.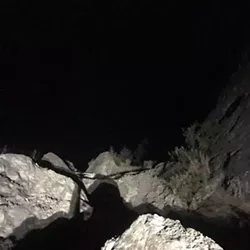 Arcata Fire reported on their Facebook page this morning, "It took all four on duty firefighters over three hours to complete the rescue." They further reported, "The man was transported to the hospital by Arcata Ambulance with moderate injuries. AFD thanks Samoa and Fieldbrook Fire for covering calls in Arcata Fire District while this rescue was being mitigated."