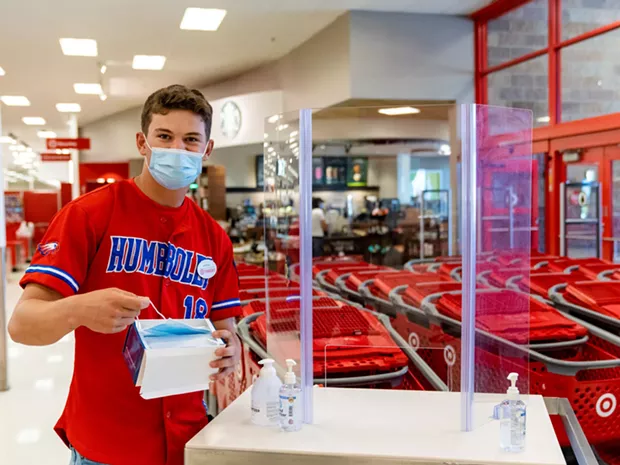 Zach Lathouris
Target employee and Eureka High School senior Hayden Bode provides masks and hand sanitizer for shoppers who do not have one at no cost.
Nearly six months into the COVID-19 pandemic the Humboldt County tip line, dubbed the "snitch" line by some, is proving to be a useful tool in coaxing compliance from residents and businesses regarding the ever-changing state and local health department orders.
"We had a real spike in calls a few weeks ago when the state closed restaurants and bars a second time," said Sheriff William Honsal in a phone interview last Friday.
Since restaurants serving customers indoors had only been reopened for a short time, a few squeezed out an extra day or two of revenue past the extended grace period local officials allowed for coming into compliance with the new closure deadline.
Others quickly threw up four-sided tents to move business "outdoors." A creative response, but since four walls equals inside dining, they were quickly told one wall only.
Calls to the tip line have been averaging about 200 a month, seven to eight a day.
"When health officers create a new order, calls increase," Honsal said. "Calls went way up when the state ordered facial coverings" in public places on June 18.
Admittedly, some businesses and residents of Humboldt were a bit slow to comply. "All over the county various businesses – especially rural stores like in Orleans, Alderpoint, Myers Flat – weren't wearing masks. They don't have a lot of interaction except with neighbors," Honsal said.
Some hardware stores didn't fall into place at first either, he said, but "with one phone call" and a friendly reminder that their business license to operate can be pulled by the county, they complied.
Then there are the chain stores, a bit tougher at first because corporate guidelines didn't always match local and state orders.
Humboldt has not seen the heated verbal and sometimes physical confrontations between store clerks and customers, or customers and customers, that make news headlines across the U.S. But that doesn't mean there isn't some resentment and resistance to health directives.
The Eureka Target store implemented an early and comprehensive mask policy that includes a front-door greeter behind a Plexiglas kiosk with hand sanitizer and free masks for customers entering without one. Across from the kiosk is customer service desk with more clerks reminding customers to "Mask-up!" if the greeter is busy wiping shopping carts with sanitizer. It's a double-team effort.
"Most customers are really great," said Patty Forbes, one of the store's managers. "Mostly they just forgot or leave their mask at home." Once in a while a customer enters without a mask and refuses to wear one, "but it is extremely rare."
"We're lucky here. We have a different clientele," Forbes said during a shift last Saturday. "There's another manager here today who also works in Redding. They're having a really hard time."
Home Depot in Crescent City — similar to the Redding Target — has seen customers defiantly non-compliant with the state mandatory mask requirement. Jaymond, the day manager who declined to give his last name in phone interview Friday, said he doesn't intervene when he sees someone without a mask inside the store.
Home Depot "staff are not police officers. We don't put our assistants in danger," he said, adding if a customer wants to confront another customer and "be a vigilante, that's fine."
Honsal said nothing mandates a store be the enforcer if, like Home Depot, a business chooses not to involve staff in enforcement. However, a store can ask a customer to wear a mask or leave. If they don't comply, the store can ask the police to have that person removed. None of this level of confrontation has happened in Humboldt to Honsal's knowledge
"Overall the county is doing well," he said. "Calls come is with complaints about social distancing, people not wearing facial coverings, house parties, weddings, businesses not in compliance.
"We've had complaints in every category," Honsal said. "We just don't have blatant disregard of health officer orders" once we follow up.
Probation and other law enforcement officers usually take the messages off the tip line and follow up. Some callers wish to remain anonymous. When interviewed, callers are asked to focus on information that they personally witnessed, date and time, etc.
The county will soon unveil a more fleshed-out response system for health order violations, such as employees not wearing masks, especially after two warnings from law enforcement, which Honsal said are rare. After a period of time, County Code Enforcement will take over. After a third violation and more written warnings, a business' license to operate could be revoked and fines imposed.
In spite of Humboldt County's relatively good behavior — residents wearing masks in public and businesses in compliance — the county continues to see an alarming spike in new cases: 32 in June grew to 100 in July and August is hugely out-pacing July already. Seventy-six new cases alone were reported as of Friday, just two weeks into the month.
Honsal said this spike is generally coming from the same sources as the first three months of the pandemic — just in greater numbers. In the majority of traceable cases, people were exposed at gatherings with family and friends beyond their immediate household. Since the arrival of June and better weather, people have been traveling more and gathering to celebrate weddings, birthdays, graduations, backyard barbecues, often without masks.
One large wedding in July south of Eureka had the tip line buzzing. Honsal said the county was initially in contact with the property owners prior to the event. The guest list was reportedly reduced from 500 to 100, but held on schedule. Honsal said the county did not intervene since it was held on private property out of view of a public road.
"It's been more than two weeks and we haven't heard of any cases" traceable to the event, he added. There have been no cases to date traceable to restaurants, bars, hair salons, gyms or churches, he said, although that could always be a factor in community spread cases that were not traced back to a specific infected person.
Travelers, residents who leave the county and return, are the No. 2 reason for the county's spike in cases, according to local officials. In fact, the outbreak in Hoopa reported last week – 24 cases out of a total 286 cases as of Monday – is suspected to have come from one family traveling out of the areas and returning to the reservation, according to an Aug. 6 report in the
Lost Coast Outpost
.
"A big driver of our local cases is related to both travel and to gatherings and sometimes the two of those combined," County Health Officer Teresa Frankovich said in a county release.
For more COVID-19 information from the county, including local orders and the tip line,
click here
.
Editor's Note: This story has been updated to include a link to the county Health Alert webpage.