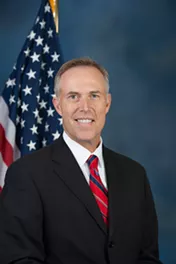 Congress
Jared Huffman.
North Coast Rep. Jared Huffman joined a majority of his colleagues today in passing the American Rescue Plan Act, a $1.9 trillion COVID-19 stimulus package, sending the landmark legislation on to President Joe Biden's desk.
According to a press release from Huffman's office, the package — if signed into law, as is expected — will deliver more than $82 million in relief to his Second District, including $26.29 million to Humboldt County cities.
"This is a historic week for our country," Huffman said in the release. "Californians have been struggling for over a year in the face of this once in a century pandemic and economic collapse. Finally — after months of Republican obstruction and political gameplay — we have passed relief that actually meets the urgency of this moment and is on its way to be signed into law. The American Rescue Plan is what we need to beat COVID, safely reopen schools, deliver relief, and ensure an equitable recovery for everyone. The vast majority of people in America support the president's plan, and today House Democrats honored our promise to deliver relief for the people."
In Humboldt County, Huffman's office reports Eureka is slated to receive $5 million, Arcata $3.5 million, Fortuna $2.3 million, Ferndale $254,484 and Blue Lake $234,343 if Biden signs the bill.
The bill would also send one-time $1,400 stimulus checks to individuals making $75,000 or less and couples making up to $150,000, which would have a large impact in Humboldt County, where 20 percent of residents lived in poverty before the pandemic and food insecurity has hit historic levels. It would also extend additional unemployment benefits.
Read the full release from Huffman's office copied below.
Huffman Votes to Pass American Rescue Plan, Sending Legislation to President Biden

COVID Relief Package Will Deliver Over $82 Million in Relief to California's Second District

Washington, D.C. – Today, Representative Jared Huffman (D-San Rafael) voted for final passage of H.R. 1319, the American Rescue Plan Act. This sweeping legislative package focuses on putting vaccines in people's arms, money in people's pockets, children back in school, and people back in their jobs. The legislation has already passed in the Senate and is headed to President Biden's desk to be signed into law.

"This is a historic week for our country. Californians have been struggling for over a year in the face of this once in a century pandemic and economic collapse. Finally – after months of Republican obstruction and political gameplay – we have passed relief that actually meets the urgency of this moment and is on its way to be signed into law," said Rep. Huffman. "The American Rescue Plan is what we need to beat COVID, safely reopen schools, deliver relief, and ensure an equitable recovery for everyone. The vast majority of people in America support the President's plan, and today House Democrats honored our promise to deliver relief for the people."

The plan provides critical support to state, local, tribal, and territorial governments. California will receive a total of $42.63 billion in federal assistance, with $16.02 billion allocated towards local governments and $26.07 billion allocated towards state government.

The counties and municipalities in California's 2nd Congressional District will receive the following amounts:

(The calculations assume that, in some states, certain township and city governments have entirely distinct populations - conservative calculations.)

Sonoma County and its cities will receive $95.87 million.
City of Rohnert Park – $8,084,657
City of Sebastopol – $1,444,462
City of Sonoma – $2,075,026
City of Cotati – $1,394,770
City of Cloverdale – $1,629,302
City of Healdsburg – $2,229,561
Town of Windsor – $5,106,251
Marin County and its cities will receive $50.19 million.
City of Belvedere – $396,031
Town of Corte Madera – $1,835,412
Town of Fairfax – $1,415,851
City of Larkspur – $2,306,547
City of Mill Valley – $2,683,944
City of Novato – $10,449,671
Town of Ross – $461,347
City of San Rafael – $11,000,050
City of San Anselmo – $2,348,333
City of Sausalito – $1,330,396
Town of Tiburon – $1,709,864
Mendocino County and its cities will receive 16.82 million.
City of Fort Bragg – $1,372,371
City of Point Arena – $84,514
City of Ukiah – $3,010,708
City of Willits – $920,435
Del Norte County and its cities will receive 5.39 million.
Crescent City – $1,277,504
Humboldt County and its cities will receive 26.29 million.
City of Arcata – $3,469,232
City of Blue Lake – $234,343
City of Eureka – $5,027,572
City of Ferndale – $254,484
City of Fortuna – $2,307,488
Trinity County and its cities will receive 2.38 million.
The Entitlement City of Petaluma will receive 8.75 million.
And $987,632 to the City of Calistoga.

The American Rescue Plan is strongly supported by a large majority of people in America – including 60 percent of Republicans – bipartisan state and local leaders, national education groups, trade unions and advocacy organizations and hundreds of businesses and chambers of commerce. Economists agree that the American Rescue Plan's targeted, evidence-based action is needed – both for struggling families and for the American economy. The legislation's provisions will generate $1.25 for every $1 of spending, will cut child poverty in half, and will lift nearly 12 million people out of poverty.

Additional resources on the American Rescue Plan are available here.

Quotes in support of the American Rescue Plan Act from economists and local leaders here.

A full list of state and local allocations can be found here.



###