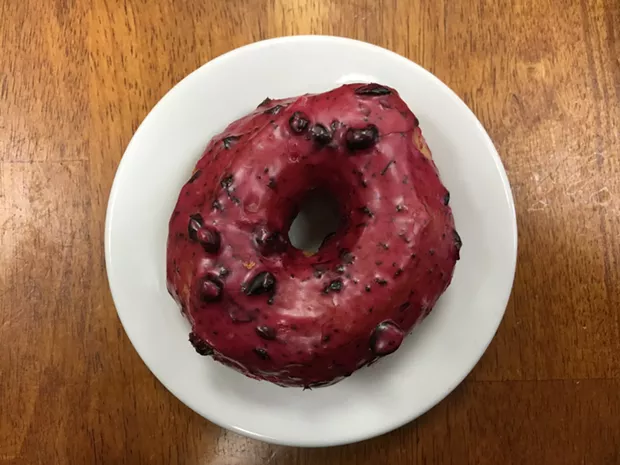 Jennifer Fumiko Cahill
I'm your huckleberry.
Sit-down doughnut options are too few and far between. And yet the doughnut should be a legitimate breakfast option alongside bacon and eggs, pancakes and waffles. Drive-thru doughnut shops are necessary because sometimes time is of the essence, people. But can we not give this glorious, unifying food that crosses all social and political boundaries its due with some plates and tablecloths?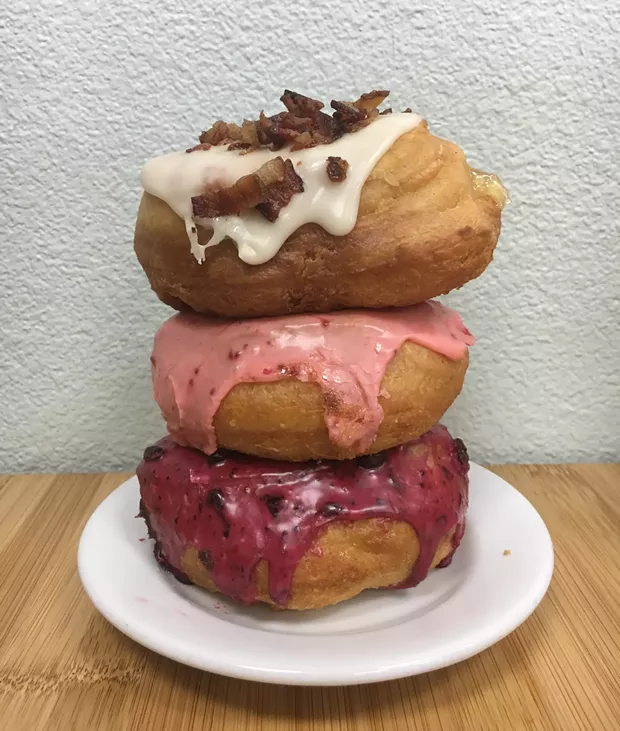 Jennifer Fumiko Cahill
Serious doughnuts.
McIntosh Farm Country Store (1264 Giuntoli Lane, Arcata) may not do tablecloths but it takes the humble doughnut seriously and allows you space to enjoy them with more dignity than your car or the office breakroom. The selection is limited but significant, fresh fruit glazes, lemon and apple fillings and cinnamon sugar among them. The yeasty doughnuts themselves are springy, chewier and denser than the typical cake or old fashioned, with a crisp edge. The swipe of strawberry glaze is like the frosting incarnation of strawberry ice cream and the huckleberry is pleasingly tart with bits of berry ($1.99). If you are torn between trying a doughnut or that plate of bacon and eggs, the maple glazed with none-too-sweet apple filling and pieces of crisp, still warm bacon on top has you covered ($2.50). And possibly covered if you don't eat carefully because that is a lot of filling.
Jennifer Fumiko Cahill
No frosting required.
On a recent visit, I nearly missed the pan of cinnamon rolls ($3.99) just out of the oven and cooling atop the pastry case. (PSA: Tall people, use your privilege in these moments to alert the small in stature to the presence of baked goods they might not be able to see. Thank you.) No icing required — they are soft, buttery spirals with an audible crunch of brown sugar.