Thadeus Greenson
Local historian Ray Hillman (left) speaks with Stan Ellsworth for an upcoming episode of American Ride as a film crew looks on in Old Town Eureka.
A camera crew made its way through Old Town Eureka today, filming
American Ride
, a television show that showcases local history.
Brooke Redmon, the show's production manager, said the premise of program is basically to follow Stan Ellsworth, "a big, burly, biker dude" who happens to be a former high school history teacher, as he rides his Harley around and talks history with the locals. In Eureka, Ellsworth caught up with local historian Ray Hillman to talk logging and redwoods. Redmon said a new season of the show is slated to air this fall, though the episodes currently being filmed are slated to run next spring. The show airs on BYU TV, an affiliate of Brigham Young University, and past episodes can be found on the station's
website
.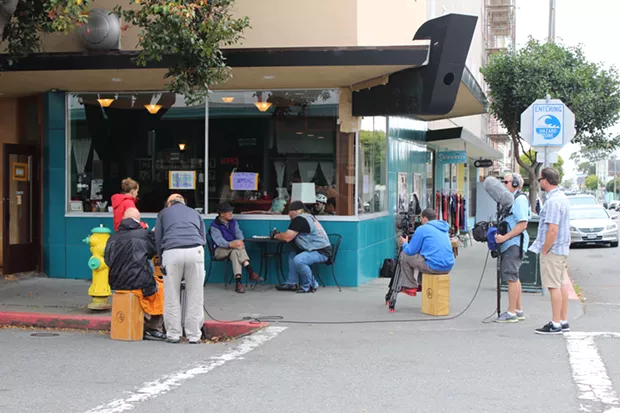 Thadeus Greenson
A film crew huddles at the corner of F and Third streets in Eureka on Monday.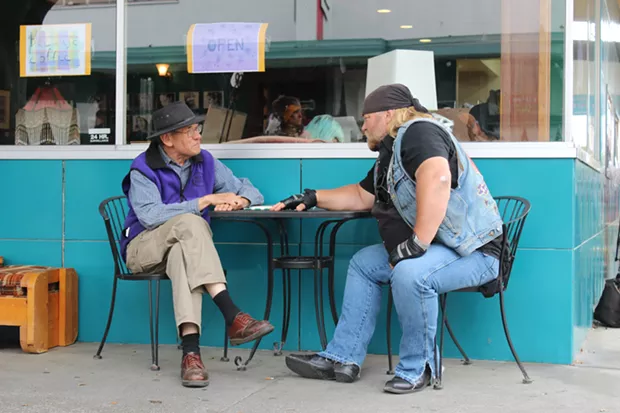 Thadeus Greenson
Stan Elsworth, described as his producer as a "big, burly biker dude" with an interest in history, talks with local historian Ray Hillman in Eureka.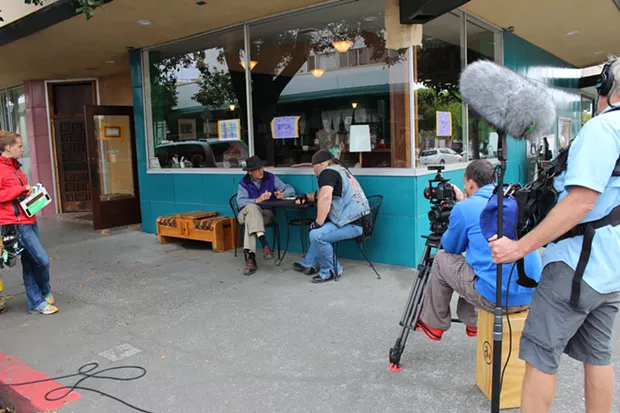 Thadeus Greenson
An upcoming episode of American Ride is slated to focus on Humboldt County's logging past and feature local historian Ray Hillman.