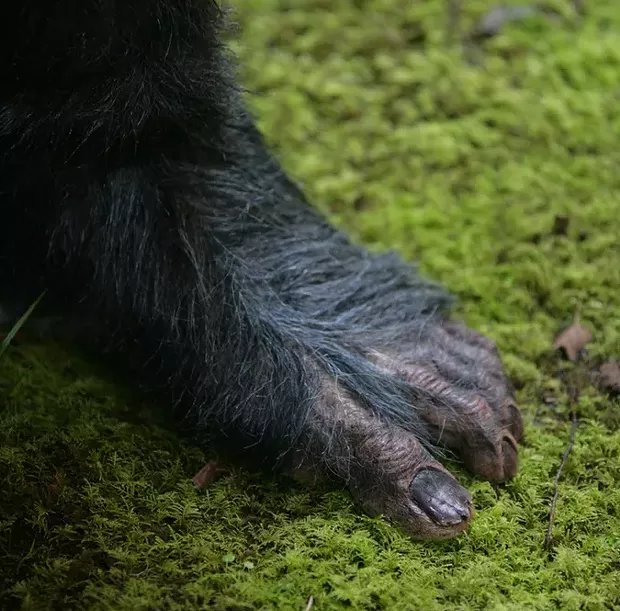 Photo courtesy Patrick Magee's 'Primal Rage" Kickstarter site
That foot looks familiar ...
First there's just cheery bird-chirp amid the sunshine. Then deep breathing, and the video camera takes us into the dark forest. Heavy, deliberate footsteps, crunching sticks, more breathing, menacing music, towering redwood silhouettes that interrupt sprays of light, a few ferns glowing bright … and the beast, walking quickly, then loping, splashing through a creek, then breaking into an all-out sprint! Away from you?
At
you? Aghhhhhh!
So much for hunting for Bigfoot. Because, he seems to be hunting you. Or someone.
This is a scene from a trailer for a new, indie Bigfoot movie in the making,
Primal Rage: The Legend of Oh-Mah
. It's "a love project" of director Patrick Magee, says
Humboldt-Del Norte Film Commission
's Cassandra Hesseltine. Magee's the genius behind the special effects in some major movies, including
Spiderman
,
Jurassic Park III
and
Artificial Intelligence
. The film crew's been filming this week, and wraps up next week, on private land amid second-growth redwood forest near Crescent City (too many old-growth restrictions on state or national park land, says Hesseltine). Hesseltine recently saw some of the action, and says the main character of the film — Bigfoot — is an animatronic creation of Magee's that is truly impressive.
"It breathes, and there are different things the face can do," she says. "The special effects were just crazy. They looked real. I believed what I was watching."
Magee spent six years creating the Bigfoot suit and co-writing the script with Jay Lee, who's also the cinematographer and editor. On the Stan Winston School of Character Arts webpage for
Primal
, Magee calls the project a life-long dream, a "character-based Bigfoot thriller, as Bigfoot has never been seen before. It's PREDATOR meets FIRST BLOOD meets PUMPKINHEAD, with this re-envisioning of the Bigfoot legends."
It's a
serious
Bigfoot movie, he writes, with none of those modern visual effects but rather "a man in a creature suit, gruesome kills, make-up driven characters, animatronics, self-mechanized masks, armor and more." It involves "survival, action, horror, love and characters that the audience will truly care about." Yeah, he implies, CGI can just step aside, because his film brings us back to the days of "GOOD, PRACTICAL, monster-movies. We want to bring the trend of REAL monsters, REAL effects and REAL characters back to an audience who is yearning [for] them."
He's most proud of the "ultimate Bigfoot suit" (outta the way, cheeseball Bigfoot hoaxters with your modified gorilla suits and wooden feet): "Every little detail, from sculpted toe-prints to the nose hairs individually punched into the face were thought out and executed to perfection. With a team of mold-makers, casters, fabricators, hair punchers and mechanics at my side, I sculpted and painted every inch of the suit."
As for the story: A wife picks up her husband when he gets out of prison, which is "deep in the forest" of Northern California, and they get attacked by a sadistic, warped Oh-Mah ("Bigfoot" in an unspecified Native American language). Fun, ahem, ensues. And terror.
Magee calls it a strong story with strong characters. "Bigfoot is a strong character," he says in one of his videos promoting the film to potential Kickstarter donors. "This is an intelligent, stealthy, thinking being, and so it's all character-driven. … The location is a character in itself."
Yes, it is. With dark, spooky, lovely trees. And shadows. And bright splashes of light.
You can watch the trailer
here
and read a synopsis of the story on Magee's Kickstarter
site
. And, check out Magee's video about making the suit and plans to shoot on the North Coast below.