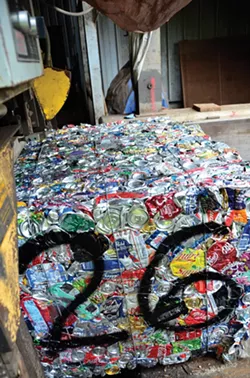 Drew Hyland
Baled aluminum at HWMA's Hawthorne Transfer Station.
A four-year battle over Arcata's recycling is over.
In 2011, the Arcata Community Recycling Center, a scrappy, built-from-scratch icon of the city's '70s progressivism, closed its doors, not long after building an $8 million processing plant in Samoa.
ACRC, in addition to its westside Arcata community dropoff center, had processed most of the Humboldt Waste Management Authority's recycling collected from Eureka, Arcata, Ferndale, Rio Dell, Blue Lake and parts of the unincorporated county. But after ACRC raised its prices, HWMA found another processor in Willits.
ACRC was livid, along with much of the community, over the perceived persecution of a local institution and the loss of local jobs. Eventually, ACRC sued the HWMA, saying the authority had intentionally sabotaged its business in order to acquire the Samoa plant at a discounted price. See a bit more about the dispute, and the county's recycling landscape,
here
.
That never happened — both the Samoa facility and parts of ACRC's Arcata dropoff center were purchased by a third party, Eel River Disposal.
But the lawsuit wore on, until today, when HWMA Executive Director Jill Duffy announced that it settled.
HWMA agreed to pay ACRC $10,000 to settle the suit, and neither party admitted to wrongdoing, Duffy said. And the suit was dismissed with prejudice, meaning it cannot be filed again.
"That now places the matter to rest and will enable our respective parties and, probably, community as a whole, to move forward through this," Duffy said.
Interestingly enough, the HWMA's contract with Solid Waste of Willits — which ACRC said was the center's death blow — is up at the end of 2016. HWMA is drafting a request for proposals to take over the authority's recyclables processing, which is expected to go out to bidders around the end of this year.
From HWMA:
Officials announced the lawsuit filed against the Humboldt Waste Management Authority (HWMA) by the Arcata Community Recycling Center has been settled. To resolve stated allegations, an agreement was reached between parties that the complaint would be dismissed with prejudice, effectively ending the lawsuit.

The lawsuit began October 24, 2011 and concerned long running litigation regarding the Samoa Recycling Facility and its operation.

"We are pleased to announce settlement of this lawsuit with ACRC." stated HWMA Board Chair Jack Thompson. "The mutually developed settlement will enable the parties and our communities to place this matter to rest, and move forward."