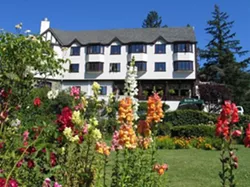 File
You could be here.
Did you blow Valentine's Day? Are you sitting in your cubicle right now wondering why that chocolate rose and repurposed post card didn't do the trick? Or maybe you're at your desk, contemplating a lifetime of loneliness because you showed your partner the door after he/she showed up with a heart shaped pizza, a bottle of André and a VHS copy of
Point Break
? No matter the depths of your despair, we're here to help you turn those wrongs into a right.
Remember the
photo contest
we announced last week, the quest for the perfect shot to capture winter in Humboldt County? Well, we're announcing today that the winner of said contest — whoever shoots the majestic photo ultimately selected by
Journal
staff as the best of the bunch — will receive a night's stay at the historic Benbow Inn, a bottle of vino and some Dick Taylor chocolate on us. That ought to be enough to get you back on some solid footing with your partner or to get you on the good foot with someone new. Or, at the very least, it seems like a pretty damn classy way to be miserable.
If you need to brush up on the entry guidelines, check out our original post
here
. Good luck.