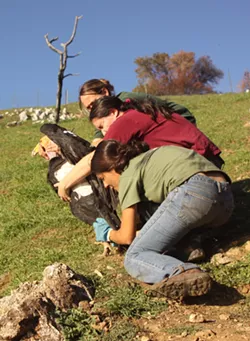 Courtesy of the Yurok Tribe
Yurok Wildlife Program biologist Tiana Williams releases a condor in Big Sur.
The Yurok Tribe led a major effort to
restore a bird that hasn't been seen on the North Coast for over a century
. The Tribe teamed up with a number of agencies, including PG&E, The National Park Service, U.S. Wildlife and Fisheries and the National Park Foundation to restore the California condor population.
"The condor has played a major part in Yurok ceremonies and culture since time immemorial," said Thomas P. O'Rourke Sr., chairman of the Yurok Tribe, in a press release. "It is through collaborative projects like this that we will bring balance back to our natural world."
The condors will be released into the Yurok ancestral territory located in Redwood National Park. "The park staff at Redwood National and State Parks is excited to work alongside the Yurok Tribe and our park neighbors to eventually return the iconic California condor to its historic range along the North Coast," said Steven Prokop, Redwood National Park superintendent, in a press release.
The National Park Service is seeking public comments on Jan. 24, at the Wharfinger building, in Eureka. This public meeting will be one of five held in order to listen to public comment on the restoration project.
Over the next few years the project will include the construction of a condor release facility in Redwood National Park, development of a landowner GIS database for Humboldt and surrounding counties in California, as well as Josephine and Curry Counties in Oregon. The project will also include a design of a remote tracking and monitoring system to better understand flight and habitat patterns of the condor.
The number of California condors hit an all time low during the 1980's when there were only 22 individual birds left. A number of factors, one believed to be lead poisoning, nearly led the animal to extinction.
In December of 2015, there were over 400 counted condors both in captivity and in the wild. PG&E said in a press release that this project will allow condors to regain their foothold in their former northern California range and further strengthen the condor population overall.
PG&E, who are partners of the National Park Foundation, has invested over $4 million dollars of infrastructure in Big Sur in order to ensure the condor flight paths and territory aren't obstructed by power lines.
"In our role as energy provider to millions of Californians, we're committed to working in ways that protect the habitat for the majestic condors and all of our state's wonderful diversity of species," said PG&E Corporation Chairman and CEO Tony Earley, in a press release.
Courtesy of Redwood National Park
A wild-hatched condor.