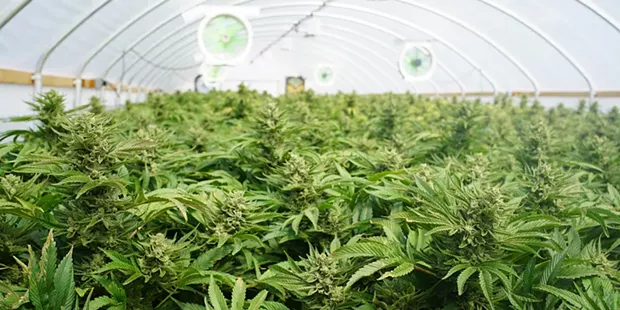 As we reported in this week's
print edition
, the Humboldt County Board of Supervisors will hold a public hearing at 9 a.m. Monday to consider approving a new land use ordinance to govern commercial cannabis and placing a cap on the number of cultivation permits issued countywide.
The proposed ordinance would change the way cannabis farms are permitted in agricultural zones, do away with the currently required setbacks from school bus stops and allow cities more control over cultivation operations that lie within their spheres of influence. Additionally, the new rules are aimed at giving farms and other businesses opportunities to delve into the world of canna-tourism by offering tours and farm stays.
Read more about the proposed permit cap
here
and the balance of the ordinance
here
. And see the county's press release copied below. You can read the full proposed ordinance and see its accompanying environmental impact report
here
.
Notice of Board of Supervisors Public Hearing
In the matter of Proposed Amendments to Humboldt County Code Regulating Commercial Cannabis Activities
DATE: Monday, March 19, 2018 - 9:00 am
LOCATION: Board of Supervisors Chamber
Humboldt County Courthouse
825 5th Street
Eureka, CA 95501
On Monday beginning at 9 am, or as soon thereafter as possible, the Humboldt County Board of Supervisors will be holding a public hearing to consider the county's Commercial Cannabis Land Use Ordinance (CCLUO) and Final Environmental Impact Report (FEIR) for the proposed ordinance.
A sampling of the principal changes to county code being considered in the ordinance include:
• Repeal of the current permit application deadline (Dec. 31, 2016) to allow for submittal of applications for commercial cannabis activities, including cultivation
• Providing for a greater diversity of areas where cannabis cultivation will be allowed to expand or occur
• Developing performance standards for controlling odor impacts from cultivation
• Special requirements/limitations for projects located within spheres of influence or community areas
• A cap on the number of cultivation permits allowed based on watersheds
More detail about the policies being reviewed at the hearings is on the county's websiteOpens a New Window.
Cannabis EIR web page.