A moment of appreciation for grab-and-go coffee shops. There, early risers are accommodated and those of us who struggle with morning are soothed without fuss. There, the good people at the counter prep for the breakfast rush and brew
hot coffee while so many of us turn in our covers, thinking of reasons not to
get up just yet. N<!————EndFragment————>owhere is that succor more urgently needed than across from institutions like the courthouse.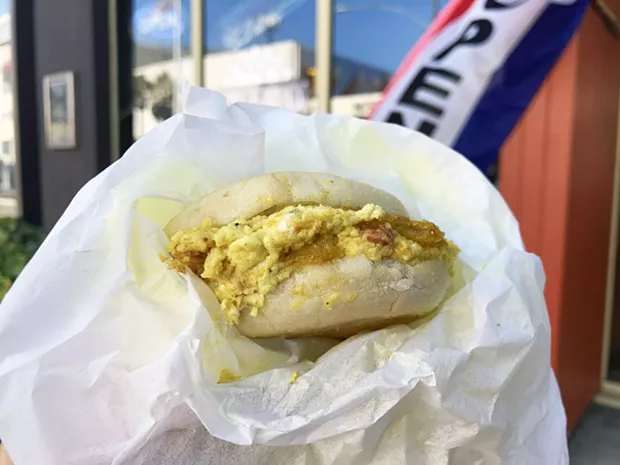 Photo by Jennifer Fumiko Cahill
The breakfast sandwich at the Grind makes the case for morning plantains.
In July, Gaby Long , proprietress and chef at A Taste of Bim, bought the Grind Café (734 Fifth St.), with its front window view of Blake Reagan and Lucas Thornton's floaty trompe l'oeil mural alongside the Humboldt County Courthouse. After a few interior touch-ups and a menu reboot, it remains a solid stop for a hot Humboldt Bay Coffee Co. latte and a bagel. But scan the full menu before you order your usual.
"We're keeping some of the traditional things, like we do the soups and the focaccia bread for paninis," but, says Long, "we have a little splash of island, like the plantains." The breakfast sandwich, for example, has soft scrambled eggs and cheese on an English muffin with jammy bits of plantain and curry aioli. "Back in the Caribbean, you eat a lot of plantain for breakfast. It's a healthy food and … the sweetness really melds with the savory," says Long. If you're not already on board with plantains for breakfast, allow yourself to be converted.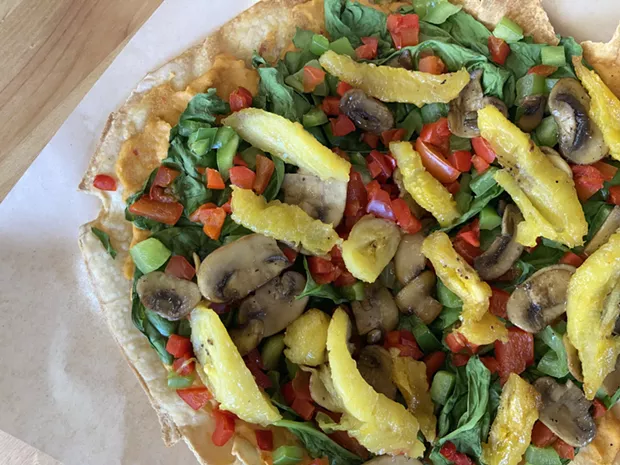 Photo by Jennifer Fumiko Cahill
The veggie flatbread, essentially a salad that knows how to have a good time.
The plantains return at lunch in the form of chips beside paninis and atop a crispy, made-to order flatbread with a layer of hummus, baby spinach and sautéed mushrooms and peppers. There are pizza and barbecue flatbreads, too, but the veggie turns what's essentially a salad into party food, which is an achievement to be celebrated.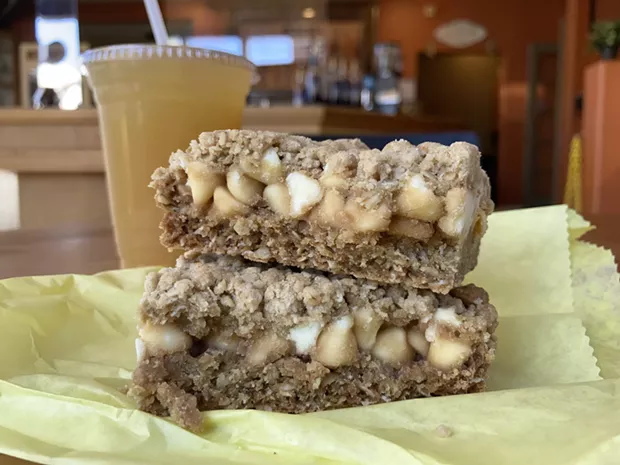 Photo by Jennifer Fumiko Cahill
The hefty, white chocolate-laden oat bar. Share it with a fellow sweet tooth.
The treats in the case are made on the premises, and you can't go wrong with a cinnamon or chocolate muffin. Hardcore sweet tooths and lovers of white chocolate might look to the hefty oat bars, which break open like geodes to reveal a layer of white chips under their crumb topping. The coffee list is standard, with espresso drinks and shakes. If you're not here to caffeinate, consider the pineapple ginger refresher, with its light fizz, house-pressed juice and the zing of fresh ginger.
Long says by early October there should be beer and wine on the menu, meaning mimosas for Saturday brunches of biscuits and gravy and wine with charcuterie boards.