Chris Valk, born and raised in Garberville, already owned the Chimney Tree Grill on the Avenue of the Giants when she began eyeing the spot by the movie theater on Redwood Drive where Treats used to be. When the newly gutted space became available, she jumped at the chance to tailor it for Il Forno Bakery (764 Redwood Drive, Garberville). "For a long time I felt like we needed a bakery in the area," she says. Baking, if not in her training, is in her blood, since her mother worked for years at San Francisco's Just Desserts before moving back to Humboldt and baking at Ramone's.
Photo by Jennifer Fumiko Cahill
Coffee, charcuterie boxes and sandwiches on the menu at Il Forno.
Head baker Walter Chumley starts work at 2 a.m. every day to fill the cases with eclairs, cheery miniature tarts, fat whoopie pies and big, glossy croissants sometimes stuffed and topped with almond or fruit and ricotta filling by the 6 a.m. opening time. The slightly salty buttermilk biscuit with honey and fig jam is utterly satisfying with crusty edge and tender middle. The shells of the traditional cannoli with chocolate chip and citron-dotted ricotta filling break with that unmistakable muted crunch for which there must be a word for in Italian or ASMR lingo. "It's very classic," says Valk.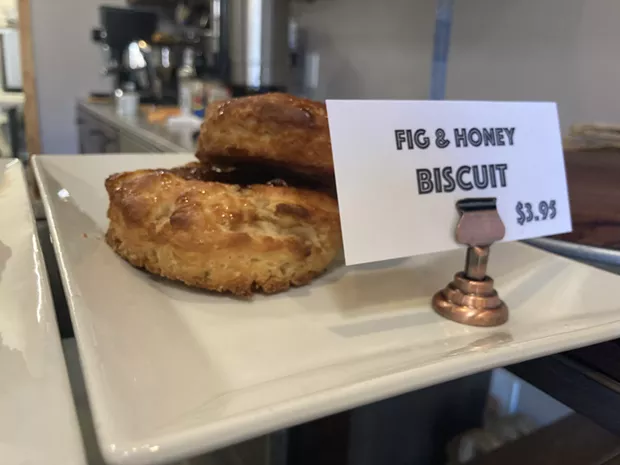 Photo by Jennifer Fumiko Cahill
Hearty fig and honey biscuits at Il Forno.
There are more whimsical rotating specials, like doughnuts topped with chopped Skor bars (an underrated candy), tea from Humboldt Herbals and coffee custom blended for Il Forno by Signature Coffee in Redway. For lunch, the kitchen offers grab-and-go salads, charcuterie boxes and sandwiches. Valk says, "I want it to be as little wait time as possible … you're in and out in 10 minutes." What you won't find is a basket of yesterday's treats. "We never sell day-old pastries, I donate them to the hospital at the end of the day," she says. "They get very excited."
Photo by Jennifer Fumiko Cahill
Il Forno Bakery in the revamped former home of Treats in Garberville.
Valk herself is partial to the tomato, mushroom, caramelized onion and cheese croissant, though the frittata is her go-to for breakfast. The contrast between the relatively luxurious offerings in her shop and the shuttered storefronts on the town's main drag isn't lost on her. "That's really what we wanted to offer — something wonderful. Garberville doesn't have to be [as sparse] as it is, people deserve something wonderful."
<!—EndFragment—>