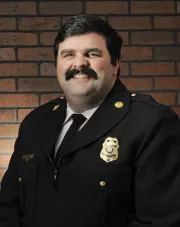 Humboldt Bay Fire website
The sudden resignation of Humboldt Bay Fire Chief Bill Gillespie, announced this morning by the Humboldt Bay Fire Joint Powers Authority Board of Directors, wasn't accompanied by much in the way of explanation. Eureka City Councilmember Kim Bergel, who sits on the JPA board, said that she could not discuss the content of a today's 9 a.m. closed session meeting, announced last week, in which Gillespie's position was discussed. She told the
Journal
she appreciated Gillespie's service, echoing the language of the terse press release issued at 10:30 a.m.
"I will miss him," said Bergel.
Matt McFarland, president of Humboldt Bay Fire Local 652, indicated that line-level firefighters have been unhappy with Gillespie's leadership since he took the position in January 2016, although he declined to speak on the record about specific issues.
"On behalf of the union, what I can add or say is we've been through some difficult times with Bill Gillespie," said McFarland in a phone interview. "We're optimistic that in the future we can make some cohesive headway."
The union has taken a vocal and proactive stance on firefighter salaries, which McFarland says have been stagnant for 10 years. McFarland has written several op-eds for the
Times Standard
indicating a glaring discrepancy between wages for line staff and management. In one editorial, he said the "wage gap between captain (the highest rank represented by our union) and fire chief is a whopping 120 percent."
According to wages reported on the Transparent California website, in 2016 Gillespie took home $127,698, while the lowest-paid captain earned $67,951, a roughly 88 percent gap. (The highest-paid captain earned $81,643 in 2016.)
McFarland explains this by saying his calculations come from the 2016 wage scales sheet, which compares from the "top step" position. Gillespie was not at the top step for his position, which would be $149,844. The top step for a captain according to that wage scale, provided by Humboldt Bay Fire, is $68,196. These figures support a 120 percent differential between captain and chief.
McFarland says the union has been in negotiations for a salary bump for much of the year, with the JPA offering a set rate of 1 percent per year, a figure they found unacceptable. Firefighters did get a 5 percent wage this year following the resignation of a battalion chief whose position was then liquidated, resulting in that salary being redistributed through the ranks.
"We'd like some sustainable funding models," McFarland said of future goals. "Turnover is pretty bad and a big part has to do with wages."
McFarland filed a grievance with the JPA in June after Gillespie asked him to remove a "Black Lives Matter" pin from his uniform shirt. The JPA upheld Gillespie's decision after a short hearing on June 7.
McFarland said the union is optimistic about their prospects under new leadership.
"We thank him for his service, we are hopeful for the future," he told the
Journal
.
Gillespie could not be reached for comment. City manager Greg Sparks also said he preferred not to comment, saying HBF is not a city department.
Editor's note: This blog was updated to reflect additional information regarding the wage scale for HBF firefighters. That information clarified an earlier point made by McFarland about the wage gap between management and line-level firefighters. The
Journal
apologizes for any confusion.
From The Humboldt Bay Fire Joint Powers Authority Board of Directors:
The Humboldt Bay Fire Joint Powers Authority Board of Directors has accepted Fire Chief Bill Gillespie's resignation from Humboldt Bay Fire. Deputy Fire Chief Bill Reynolds has been appointed as the Acting Fire Chief until an Interim Fire Chief is selected and appointed. Humboldt Bay Fire Joint Powers Authority Board of Directors would like to thank Chief Gillespie for his dedication and 21 years of service to the City of Eureka, HFD District #1, Humboldt Bay Fire JPA, and surrounding community.