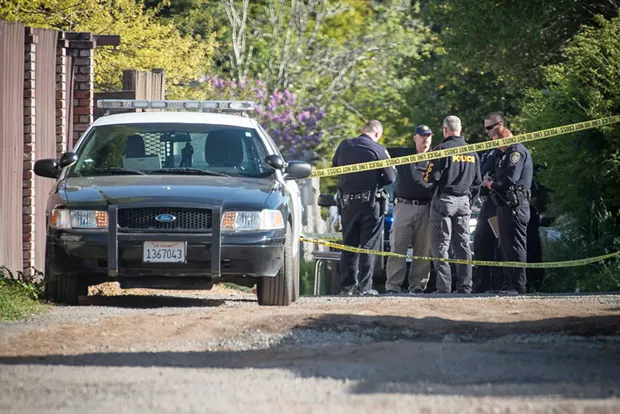 Mark McKenna
Officers at the scene of the shooting Sunday.
A Fortuna woman who was killed Sunday was shot while trying to stop Ronald Allen Crossland, a convicted felon with a long criminal history that included domestic violence, from kidnapping another woman, police said today.
According to a brief follow-up statement from the Eureka Police Department, Sharral "Sherry" McDonald had "no prior association" with Crossland and met him through the second woman, who was unharmed. She has not been named and EPD public information officer Brittany Powell has not responded to requests to clarify her relationship to Crossland. Read previous coverage
here
.
A GoFundMe account has been set up to raise money for McDonald's memorial service and to help her family. The 60-year-old Fortuna High School graduate leaves behind a husband, children and grandchildren, according to the account, which can be found
here
.
"Sherry worked constantly and was always there to help someone in need," the posting reads. "Sherry was the type of person who always did whatever she could to help someone and was a kind, giving soul. Help us honor her memory by coming together for her family to raise money for funeral expenses and other financial hardships that her family should not have to endure in the wake of their tragic loss."
This story will be updated as more information becomes available.
Read the EPD statement below:
Upon further investigation, it appears Crossland was attempting to kidnap the uninjured victim at gunpoint. McDonald had intervened and placed herself between Crossland and the uninjured victim when she was shot by Crossland. Crossland and McDonald had no prior association and met through the uninjured victim. The investigation is ongoing.