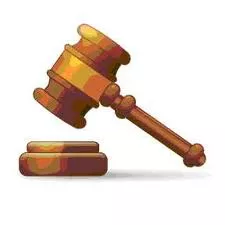 The murder case against a 15-year-old accused of fatally stabbing another teenage boy in the Ocean View Cemetery on Aug. 9 will continue in the juvenile court system after Gov. Jerry Brown signed a law last week that prohibits charging individuals as adults if they were younger than 16 at the time of the accused crime.
As reported by the
Lost Coast Outpost
, a hearing had been scheduled for next week on whether the teen suspect, who is charged with murder, should be tried as an adult in the death of 16-year-old Brandon Brocious. His mother Lorna Leen is also charged with murder and both have pleaded not guilty. Her preliminary hearing is scheduled for Nov. 7.
According to an arrest warrant affidavit filed in the case and obtained by the
Journal
, Brocious was stabbed during a confrontation with the suspect and his mother over a stolen cell phone. During the argument, Leen reportedly held back a teenage girl who was with Brocious while her son stabbed him.
The affidavit, based on the teenage girl's account, states that she and Brocious had hidden the belongings of Leen and her son, who had been camping near the cemetery, earlier in the day on Aug. 9 in retaliation for the stolen phone. But she said they later went back to return the items.
According to previous media reports, Brocious' family believes he became acquainted with Leen and her son while distributing his homemade sourdough bread to the homeless.
After finding Leen and her son at the cemetery, the affidavit states Brocious told the teen suspect that they were keeping his backpack until the phone was returned. The suspect then reportedly said, "Mom you got my back," and "Either you hold him (Brocious) or her (the teen girl)" and displayed a large kitchen knife, which he began swinging at Brocious.
The teen girl attempted to intercede but Leen held her back as Brocious tried to get away but fell and was stabbed in the chest, the affidavit states. She tried to render aid as the teen suspect and his mother fled the scene, with Leen telling the girl to call 911.
Eureka Police Department officers arrived at the scene just after 9 p.m. and found Brocious dead, but the girl had fled home to tell her father. He spoke with the detective who wrote up the affidavit. The girl said she believes Brocious died before she left.
Leen and her son were each arrested on $1 million warrants the next morning. If convicted in the juvenile system, the teen suspect will face incarceration until he turns 25 instead of the 25 years to life in prison he would have faced if tried as an adult.