The city of Arcata has settled a civil lawsuit brought by the mother of slain Humboldt State University student David Josiah Lawson, whose unsolved killing at an off-campus party four years ago continues to reverberate throughout the community.
Submitted
David Josiah Lawson
In the agreement with Charmaine Lawson, the city has agreed to make a $25,000 contribution to the David Josiah Lawson Memorial Scholarship fund and to partner with the Lawson family to create a mural honoring him according to a press release. No other details of the agreement were released.

Journal attempts to reach Charmaine Lawson for comment were not immediately successful., though the city's press release notes she will "continue to fight for justice on behalf of her son" and misses his "laughter, smiles and most importantly his big warm hugs."
Josiah Lawson was fatally stabbed in the early the morning of April 15, 2017, amid a series of fights outside of an Arcata house party. While Kyle Zoellner, a then 23-year-old McKinleyville resident, was arrested at the scene and charged with Lawson's murder, a Humboldt County Superior Court judge dismissed the case a few weeks later, finding there was insufficient evidence to hold him for trial.
Charmaine Lawson filed suit against the city in November of 2018, alleging that the city and its officials violated her constitutional rights to equal protection under the 14th Amendment by inadequately and incompetently investigating the case, with racism and discrimination contributing to what the lawsuit described as the city's "deliberately indifferent" policies, practices, customs, training and supervision of officers related to the investigation.

The case, which had been slated to go to trial Nov. 29, was dismissed July 1 as a result of the settlement.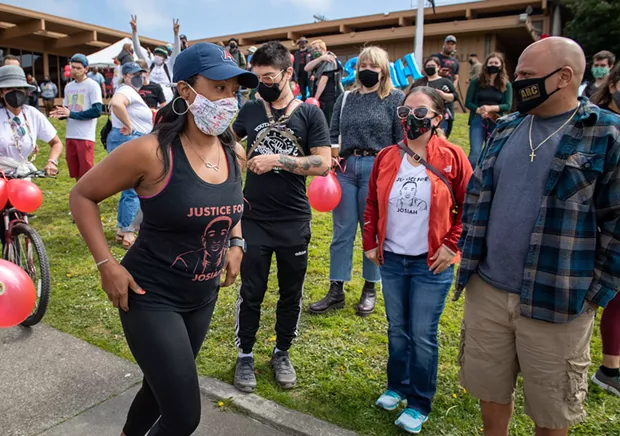 Mark McKenna
Charmaine Lawson starts off an inaugural run in memory of her son David Josiah Lawson.
Zoellner, meanwhile, has also filed a lawsuit against the city, alleging police lacked probable cause when they arrested him, defamation and malicious prosecution. It remains pending.

Charmaine Lawson has been a constant presence in Humboldt County in the years since her son's death as she continues to call for justice, joined by other community members.
But the investigation into the HSU sophomore's fatal stabbing has been troubled from the start, plagued by a series of crucial initial missteps in controlling and processing the crime scene and securing potential witnesses, and subsequent trouble getting additional witnesses to come forward and cooperate.
A February 2020 report from the National Police Foundation found that while the emergency response did everything possible to try to save Lawson's life, "many basic tenets of crime scene security and management" were not followed. The report cited a systemic failure by the police department's then leadership to provide adequate training on crime scene management and command skills, which severely hindered the ensuing investigation.

That was followed a few months later by a Humoldt County Civil Grand Jury report, which found "failures, ineptitudes and poorly executed police work" but stated "it did not find direct evidence of racial bias."
A criminal grand jury convened in February of 2019 to hear evidence in the case
voted not to indict anyone
.
This April, as the fourth anniversary of Lawson's death approached, a renewed call was made for any witnesses at the crowded party on Spear Avenue to come forward.
In a joint public service announcement Chief Brian Ahearn recorded with Charmaine Lawson, they
urge witnesses
who may have attended to come forward and talk to investigators.
Speaking to the
Journal
last week, Ahearn said he still believes additional witness statements are what's needed to get the case back in court, adding that police still have been unable to speak with many of the more than 100 people who attended the party the night Lawson was stabbed. He underscored the importance of anyone who attended that night coming forward to speak to investigators, no matter what they saw, adding that even seemingly insignificant details of what transpired that night can help investigators piece together the puzzle and build the criminal case.
A $55,000 reward for information directly leading to the arrest and conviction of the person responsible for Lawson's killing has been established and remains in place.
The department has set up an anonymous tip line to field information in the case, which can be reached at (707) 825-2590, 24 hours a day.
See the full press release from the city copied below:
See related PDF