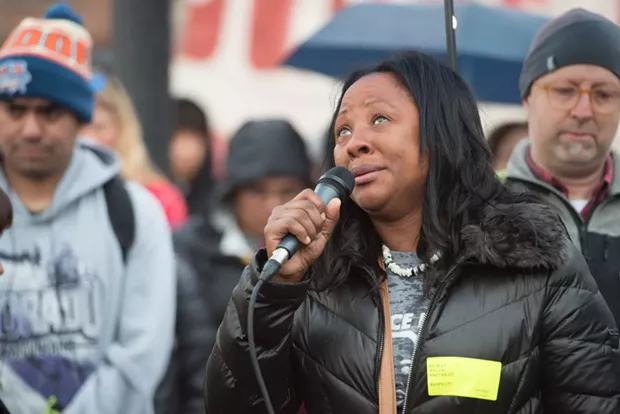 Mark McKenna
Charmaine Lawson speaks to the crowd gathered to honor her son and demands justice for him on the second anniversary of his killing.
Encircled by more than 100 people at the center of the Arcata Plaza during a candlelight vigil on the second anniversary of her son's death, Charmaine Lawson took the microphone and fell silent. She took off her red hat with "Josiah" embroidered across the back, doubled over and wept until a friend embraced her. She collected herself and started again.
"I really don't have much to say," she said. "This is really emotional. I want to thank you guys for continuing to show up for my son, for continuing to show up for my family, for continuing to show up for this community. I don't even know what to say. This is heartbreaking."
About a half-dozen speakers addressed the crowd yesterday, all expressing frustration that David Josiah Lawson's April 15, 2017, stabbing death remains unsolved after two years and most speaking from the large planter at the plaza's center, where a statue of President William McKinley stood until it was removed six weeks ago. As they spoke about how they have lost faith in local authorities, volunteers handed out pre-addressed postcards calling on the California Attorney General's Office to take over the investigation and prosecution of Lawson's case. Many questioned whether racism and bias have played a role in authorities' handling of the case, as Lawson was black and the man suspected of killing him is white in a county that's 84 percent white, according to the U.S. Census.
"My son was taken. My son was butchered and no one cares," Charmaine Lawson told the crowd.
"We care," someone called back.
"I know you care but the Arcata Police Department does not give a damn about my son," Charmaine Lawson replied. "Humboldt County District Attorney Maggie Fleming doesn't give a damn about my son."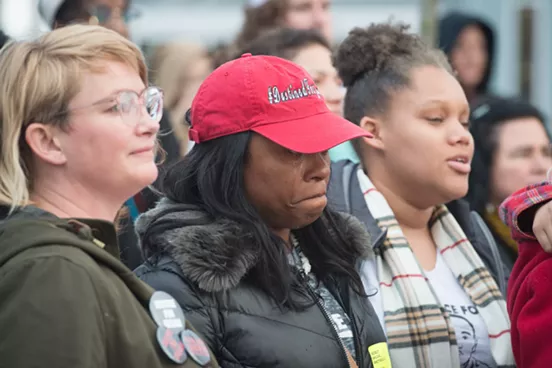 Mark McKenna
Charmaine Lawson chokes back tears as Bob Marley's "One Love" is sung in honor of her son.
APD and Fleming's office have faced fierce criticism over their handling of the case. Officers arrested a suspect — Kyle Zoellner, of McKinleyville — at the scene of the stabbing and Fleming charged him with Lawson's murder but a Humboldt County Superior Court judge dismissed the charge a few weeks later, finding there was insufficient evidence to hold Zoellner to stand trial in the case. Almost a year and a half later, the Arcata Police Department again turned the investigation over to Fleming's office, with then interim Police Chief Richard Ehle saying his investigators had found "unequivocal physical evidence" tying a specific suspect to Lawson's killing, though Fleming has since
called Ehle's statement
"misinformation." Fleming
convened
a criminal grand jury to consider bringing charges against Zoellner but announced last month that it had decided
not to indict
anyone in the case, sending it back to APD for further investigation.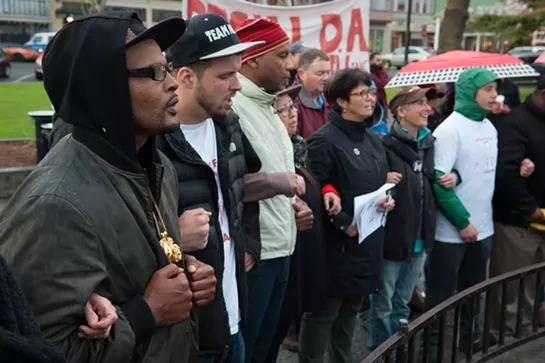 Mark McKenna
The crowd locks arms while Pastor Bethany Cseh leads them in prayer.
In the face of
public criticism
from Charmaine Lawson and others, Fleming sent a letter to the Attorney General's Office on April 5 officially asking that it take on the case. She told the
Journal
this morning that the Attorney General's Office has not responded..
In her
letter
, Fleming contends that she has "made the right decisions and taken appropriate actions at every step" in the case but says the "perception of our efforts has been, and continues to be, influenced by misinformation in the public arena from people with legal or law enforcement backgrounds who have been involved with the case."
"This misinformation has allowed a segment of the community to perceive that the Humboldt County District Attorney's Office has a conflict of interest or lacks the capacity to handle the case," she wrote. "The strength of this misperception leads me to conclude that your taking the case would be an essential step toward maintaining public confidence in the criminal justice system in California. Therefore, I am formally requesting that your office take responsibility for this case and any future prosecution of it."
The letter also indicates Fleming's office initially made the decision to charge Zoellner with Lawson's murder back in 2017 based on incorrect information provided by APD.
"Initially, the Arcata Police Department arrested a suspect at the scene and then submitted to this office, within a few days of the arrest, reports that indicated an eyewitness could identify the suspect," she wrote. "We filed charges based on that information but at the preliminary hearing that witness could not in fact identify anyone. Extensive testimony at the preliminary hearing by people in the vicinity at the time of the incident yielded no witnesses to the actual stabbing. Also, no physical evidence linked anyone to the stabbing."
When the case was again turned over to her office in November of 2018, Fleming's office conducted an extensive review, identified additional witnesses and got addition input from Department of Justice experts regarding its DNA analysis in the case before deciding to take the case to the criminal grand jury, according to the letter.
Fleming's belief that she's handled the case appropriately was in stark contrast to the sentiments expressed at last night's vigil, where speakers and attendees were sharply critical, with some even saying she should be recalled from office.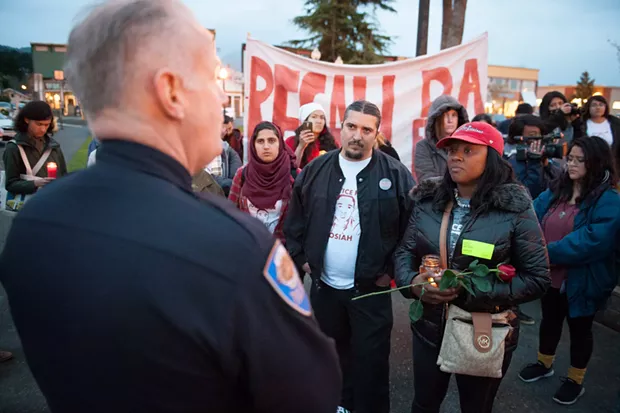 Mark McKenna
Arcata Police Chief Brian Ahearn listens to questions from Charmaine Lawson about her son's unsolved homicide.
Arcata Police Chief Brian Ahearn, hired by the city in November to take over for Ehle, attended the vigil but kept a respectful distance as he listened to the speakers. After the event drew to a close, Charmaine Lawson and about 15 supporters went to speak with him.
Under a light mist that turned to rain, they questioned Ahearn for about 40 minutes about the case and how it's been handled by his department and prosecutors, including before the criminal grand jury. Ahearn repeatedly tried to reassure the crowd that his department is staffed with competent and hard-working officers and is capable of solving the case. He also defended Fleming, saying he feels she is a competent district attorney who has made the right decisions in this case.
Toward the end of the exchange, Ahearn
repeated his plea
for witnesses to come forward, saying that, barring some advance in DNA testing, the physical evidence in the case isn't likely to change.
"That evidence will not change," he said. "We need people."
Someone in the crowd shot back that it was APD's initial failure to control the crime scene and document who was there that has left it still looking for witnesses two years later. Someone else added that some of the witnesses who did come forward felt they had been treated like criminals by investigators and prosecutors.
"There's a reason why none of us trust you," one woman said. "I'm sorry."
Ahearn spent much of the exchange listening, while defending his department, Fleming's office and pledging that APD will keep working until it has a stronger investigation to hand off to prosecutors.
Someone then asked if he felt APD officers — who in addition to allowing scores of people to leave the scene of the stabbing also let the four women with Zoellner that night leave without speaking to them and let them remove Zoellner's car from the property — had initially handled the crime scene well.
"Yes," Ahearn said without hesitation.
"I think we're done here," someone shot back. "We've hit a wall."
In the dark under a steady rain, Ahearn offered to give anyone remaining on the plaza a ride back to the HSU campus. They declined and instead marched up G Street, blocking a single lane of traffic while chanting, "Justice for Josiah."
Editor's note: This story was updated from a previous version to include additional information.